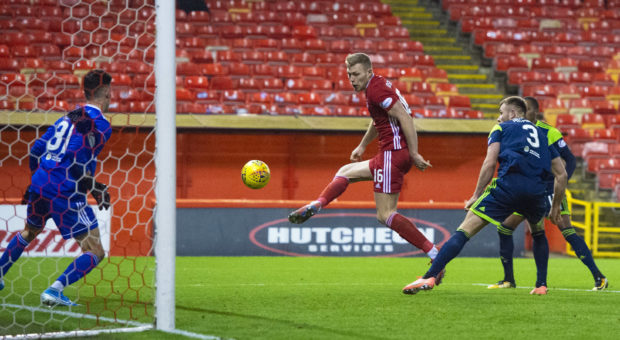 The turn of the year means only one thing for football fans – the transfer window is open.
Aberdeen, like clubs across the globe, will be assessing players, talking to agents, enquiring about availability at clubs.
While the leading clubs have the means to open the chequebook and pay for the best the Dons, in comparison, operate in a much more frugal environment.
Aberdeen manager Derek McInnes and the rest of his colleagues in Scottish football must chuckle when they see £10 million players being hailed as bargain signings in England.
The Premier League in England is the land of fairy-tale riches but look beyond it, and the Championship, and there are bargains to be found.
Aberdeen know this from their gamble of signing Sam Cosgrove two years ago. The then raw, 21-year-old was an unknown but Aberdeen's head of recruitment Russ Richardson had watched the player enough at Carlisle United to believe there was something there, a diamond in the rough.
Fast forward two years later and Richardson's assessment has exceeded expectations with Cosgrove now one of the most sought-after players in Scotland.
It is recommendations such as the one Richardson made urging McInnes to take a closer look at Cosgrove which the Aberdeen manager relies on and he believes in his head of recruitment he has a man he can trust to come up with the goods.
The Dons boss said: "Russ is invaluable to me because every manager is judged by the performance of others and those others are the players.
"To get the best players you can is a challenge given what we have to spend and he has been invaluable in terms of how he has a good handle across the board in England.
"Whether that's with agents, players, chief executives and managers as he's been doing it a long time and is a proper football person.
"He has done some sterling work for us down the years and we normally operate in a market where we don't have a lot to spend so every signing can seem a bit of a gamble.
"You have just got to try to limit that risk and the way to do that is by having good people doing their work and due diligence.
"These sort of guys are crucial and he runs the whole department for me down south as we have four part-time scouts in England as well."
When it comes to the north of Scotland, McInnes believes Aberdeen leads the way in developing young talent, but at first-team level Richardson is the man charged with the task of covering the English market on behalf of the club.
McInnes said: "The club has made a huge investment into the north of Scotland and any promising young player from Dundee north we are confident we will sign him.
"But at first-team level having the contacts and knowledge on players in England then good scouts are important no matter how good the technical stuff online is nowadays.
"They can get a feel for a player if they are i- stand watching them on a regular basis."
Richardson's prompting to sign Cosgrove has certainly paid off and the Dons boss believes passion and conviction are important qualities to have in his colleagues on the football staff at Pittodrie.
He said: "I remember the first time Russ saw Sam and he phoned me from his car as he was so excited by what he'd seen.
"I like staff being excited, whether it's (head of sports science and fitness) Graham Kirk talking about speed and power in players and their fitness levels being up, or if it's the youth team coaches talking about their players' performances getting better.
"But when you hear your head of recruitment talking about how he really liked Cosgrove and how I needed to get down and have a look at him that's what you want.
"You want that certainty from all your staff and there's no doubt Russ was certain about Sam's ability.
"I saw Lewis Ferguson playing a few times against my youth team so that signing was a wee bit more obvious as it's in your face.
"But I'm dependent on others to identify players in other places."