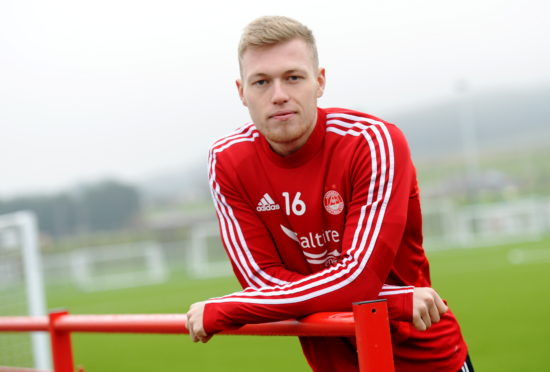 Aberdeen defender Shay Logan is not the only Don preparing for life after football.
Logan revealed last week he has been training to become a plumber for the past 18 months.
Sam Cosgrove, who has scored 20 goals in 26 games, is also using his time away from the training pitch to complete an accountancy degree.
But the Englishman, who will fly out with the squad for a training camp in Dubai, admits it has been difficult to try to keep on top of his studies.
He said: "It's taken a hit the last few months with the busy schedule and the games. But I've tried to keep on top of it.
"It's an online course, similar to a university course. It's essentially getting trained online.
"I started it when I was at Carlisle; it was in a period of my life where I didn't know what I was going to be doing.
"I needed a back-up because I couldn't solely rely on football to get me where I wanted to be.
"We get quite a bit of free time when we finish training early, so it's good to switch off and give my mind a bit of a work.
"It's hard not to doubt yourself if you have knockbacks, it does creep in. You need a certain level of self-confidence to be a footballer but everyone is human at the end of the day.
"It was just something I thought that if football does fail, it puts me in a good place coming out of it."
Logan said he is enjoying learning a new trade and is putting in the hours every day after training.
He said: "We earn good money but at this level are we really going to earn money that will last us a long time, for life? No.
"I always said to myself that when I get to a certain age I want to start doing something else.
"I love football but I don't love it enough to go into coaching and stuff like that.
"I thought you know what, I'm going to do a trade.
"It was either go into gas, electrician or plumbing. Plumbing and gas come together, it's the same course.
"I learn from home, I go in to do my tests and stuff like that and speak to the tutors when I need to.
"But it's all home learning and I've got a friend who's a plumber so I do my practical stuff with him."
He added: "I finish training at one o'clock and I will go there until five o'clock.
"On my days off on a Wednesday, I will do a full day.
"I have been doing that for about 18 months."