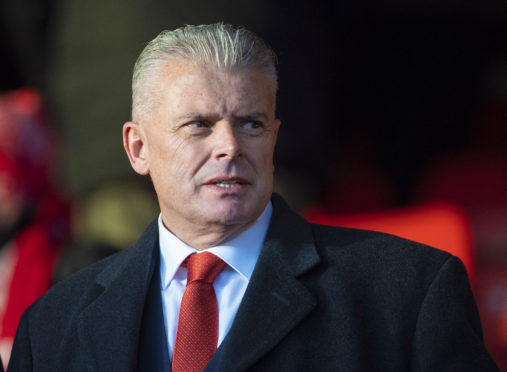 Dave Cormack has earned the right to be the Aberdeen chairman he wants to be as he has invested heavily in the club.
That is the view of manager Derek McInnes, who paid tribute to Cormack's commitment, including him being the driving force behind securing investment in their new training campus and stadium at Kingsford.
Cormack took some heat over the festive period for his tweet about Kristoffer Ajer, alleging the Celtic defender had feigned injury to get Sam Cosgrove sent off and that Lewis Ferguson had been targeted by Leigh Griffiths in the same game.
McInnes, however, believes the work he has done behind the scenes allows the chairman to operate as he sees fit.
McInnes said: "It is his right, his prerogative, to be the chairman the way he wants to do it. He has put enough money into the club. Without his drive and investment, the training ground wouldn't have been completed.
"The collaboration with Atlanta that has been brought in as a result of Dave being here gives us a bit more strength as a club. I think that collaboration will pay dividends.
"We will work with good people there. I think he has an eagerness to engage with the supporters and make the matchday experience better for supporters, not just with what is happening on the pitch. I think the fact the club is debt-free, has the new stadium plans and has the training ground built is good.
"Dave is just like Stewart, he just wants the best and most competitive team out there. But they are totally different in nature and totally different in how they want to be chairman."
McInnes does not see any need for his working relationship with Cormack to change, given the two and former chairman Stewart Milne have been working together as a group on football matters for the past few years.
He added: "It was always myself, Stewart and Dave working very closely together. The last three years really has been us three driving the football budget as much as we can, trying to get our ins and outs, trying to get everything the way we want it.
"Dave is similar to Stewart – he just wants to get the best squad put together for us to work with.
"Although Dave was always involved, the conversations were probably more with Dave than Stewart. But it is still the three of us operating closely together.
"The good thing is we have the benefits of Stewart's experience there as well.
"Dave will want to be the chairman in his own right. He was always going to be the chairman. That was the long-term plan. So he will want to do it his way.
"You can already see aspects of that – more engagement, transparency with the supporters, on social media and all the rest of it."