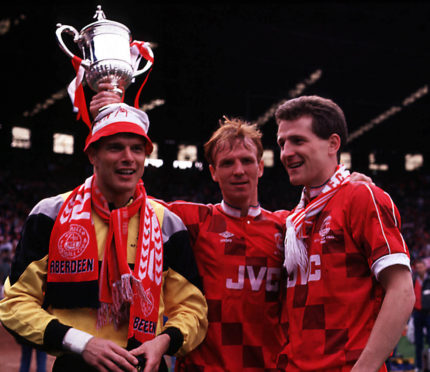 Alex McLeish would love nothing better than to shed his tag of being the last Don to captain Aberdeen to Scottish Cup glory.
It has been 30 years since McLeish held the trophy aloft at Hampden following a penalty shootout win against Celtic, Brian Irvine's spot-kick giving Aberdeen a 9-8 win after 120 goalless minutes.
At the time Aberdeen's success was taken as routine, but it is clear in the three decades that have passed that times have changed.
McLeish said: "It's hard (to win trophies). We haven't had the level of player compared to those days. It's a different ball game now in terms of the money. Back then it was more of a level playing field.
"We also had a marvellous bunch of guys, players Alex Ferguson pieced together and the jigsaw came to big success."
The success of the Ferguson-era Dons, and the remnants who helped bring more success to the club under Alex Smith and Jocky Scott, made Aberdeen a team to be feared and respected as a force to be reckoned with.
Rather than feel the weight of expectation, McLeish believes Derek McInnes's class of 2020 should be inspired by the past success.
He said: "It should never be forgotten. It's a brilliant era in Scottish football's history.
"It's the best ever in Aberdeen's history. We should embrace that.
"I've heard people say before we should get rid of it and let the current team flourish, but you have to embrace that. There has to be inspiration for the current generation."
It was a co-management team of Smith and Scott who guided the Dons to a cup double-winning season in 1989-90.
The post-match celebrations were certainly memorable but the Scottish Cup win against the Hoops was a far from enjoyable one for the players who had the honour of participating in the first final to be decided on penalties in the competition's history.
Only the goalkeepers were spared the pressure of taking a spot-kick.
McLeish said: "The penalty I had to take wasn't the winning penalty but it was a pretty important one. It was number six.
"Celtic had taken five, we had taken five and one player from each team had missed.
"I remember Jocky Scott saying, 'who's taking the next one?' and I said, 'I'll take it'.
"He asked, 'Are you confident you're going to score?' and I said, 'Not really but I don't see anyone else volunteering'.
"So I took the long walk up, decided to stick to my favourite position, hitting to the goalkeeper's left as hard and accurate as I could. If I did that, I knew he wouldn't save it.
"I scored but I didn't jump up and celebrate; I walked back thinking 'thank goodness'."
McLeish added: "By the time we got to 9-8 and Brian won it, the goalies were diving the wrong way and people were miskicking it and it was going in. We thought it was never going to end.
"Then Theo Snelders, as he said at his hall of fame induction, knew it was coming close to him taking one, so knew he had to save one – and it was Anton Rogic's turn.
"It was a great, great save. Theo timed it really well."
If 2020 is going to be Aberdeen's year much will depend on their defence and McLeish, who gave Aberdeen defender Scott McKenna his Scotland debut, believes the central defender will be key to his old club's hopes of lifting the cup in May.
He said: "I had Scott McKenna in the Scotland squad a few times and thought he really flourished.
"He grew a little bit in terms of stature and confidence but he's big, he's quick and good in the air.
"He's going through a learning process."
He added: "I'd make a mistake and you'd try to rectify it next time.
"You can't cover every base, but it's good to see the Dons are trying to get a defence that looks impregnable."