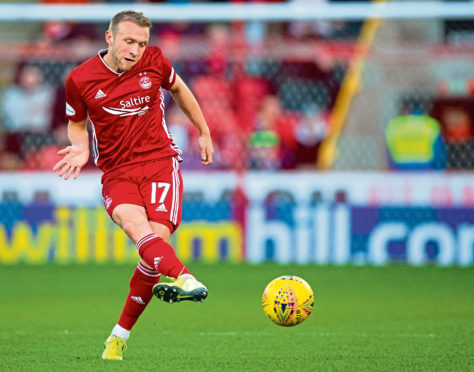 Aberdeen manager Derek McInnes believes central midfielder Dylan McGeouch gave a hint of what he will bring to the Dons during his side's Scottish Cup victory against Dumbarton.
The 27-year-old dictated the play in the middle of the park on his competitive debut for the Dons following his move from Sunderland.
McInnes, who failed on two previous occasions to sign the former Celtic and Hibernian player, was encouraged by the Scotland cap's display.
He said: "I thought he was very good and he showed what he is going to give us. He is a metronome in there.
"He nudges the ball up the pitch and gets you moving. If he has movement ahead of him then he has the quality to find those little passes that can make the difference.
"For somebody who has not had a lot of 90 minutes this season I thought his performance was very good.
"It is a step in the right direction for him.
"He was only meant to play an hour but we kept him on for a bit longer.
"He is a boy that you can see has lovely soft feet, he handles the ball brilliantly and he gave us a sign of what he is all about.
"He can be pleased with his home debut and pleased that we managed to get into the next round."
McInnes, meanwhile, felt the club's Red Shed initiative which trialled unallocated seating in the Merkland Road Stand helped create a much-improved atmosphere at Pittodrie for Saturday's encounter against the Sons.
He said: "I thought it was magnificent, absolutely brilliant.
"They came here determined to put on a show and they did exactly that.
"Every one of my players commented on how different the atmosphere felt.
"I think if that wasn't there, that could have been a more difficult game, given how the game was playing out. They stuck with the team and kept behind them. It felt like an away support behind that goal and we get brilliant backing from our away fans.
"I cannot thank everyone enough who turned up at the game. I thought the fans in the Red Shed got behind the team brilliantly.
"The atmosphere felt brilliant from the warm-up. If that is a sign of things to come, then long may it continue.
"We would have loved to have given them more goals, we would have loved to have put a bit more polish on the performance for them but if they can continue to do that I have no doubts that they will help the team.
"Hopefully the supporters enjoy being a part of an atmosphere like that as well.
"We are all a bit frustrated we haven't scored more goals but there is no doubting it generated a far better atmosphere and full marks to them for that."