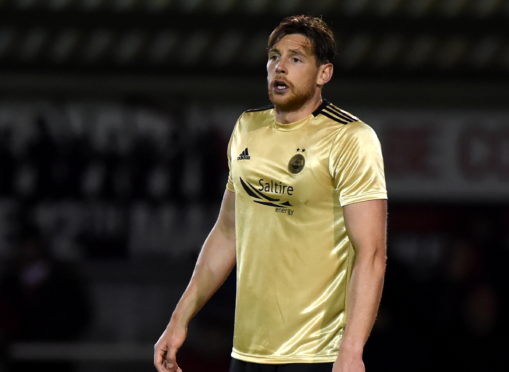 Aberdeen defender Ash Taylor knows exactly what he is facing as he tries to stop in-form Motherwell striker Chris Long at Pittodrie tonight.
The Dons defender will be given the task of halting Long, who scored a hat-trick in his side's 3-0 Scottish Cup win against Dundee on Saturday.
Taylor knows all about Long's qualities having car-shared with his former Northampton Town team-mate.
He said: "I played with Chris at Northampton and we got quite close because we travelled together every day.
"There was a few of us in the car but he didn't drive much – he preferred to get a lift and sleep.
"He had a Range Rover so didn't want to spend on the fuel, so he'd get into one of our cars and doze off.
"The other players were Sam Foley who is at St Mirren and also a lad Dave Buchanan who is at Chesterfield now.
"The M6 is a nightmare so we spent a lot of time in the car together. We'd meet at Lyme Services because that was close to all our houses.
"The commute was three hours every day, so you get to know people and you have good banter."
Taylor is not surprised to see Long, who has been offered a new deal by Well boss Stephen Robinson, make an impact in Scotland with his treble on Saturday taking his tally for the Steelmen to nine in 23 appearances.
The Aberdeen defender said: "We keep in touch now and again, he's a Scouse lad as well so we speak now and again.
"I didn't speak to him before he signed for Motherwell but we were in touch after that.
"He said he was coming up here to get game time and it has been a good move for him.
"It hasn't surprised me at all he's done well since coming up to Scotland because he's a very good player.
"You don't get signed by Everton and Burnley if you don't have something about you and he's showing that.
"You saw from his hat-trick the other night what he brings, he scores goals, he's got pace, he can shoot with both feel and, above all, he has that killer instinct.
"He did well for us at Northampton so I knew he would do well here.
"He scored a few goals for us and his pace was an asset, he's a good player and I'm looking forward to playing against him."
Taylor's personal duel with Long could be the key to Aberdeen's hopes of reclaiming third place in the Premiership tonight with the fourth-placed Dons trailing Well by a point.
The Dons laboured to a 1-0 win against Dumbarton in Saturday's Scottish Cup tie despite creating several chances but Taylor hopes the 90 minutes will have helped shake off the cobwebs of the winter break.
He said: "We want to finish third and push as high as we can so this is an important game this week.
"Motherwell have good players, so I am not surprised at all by how well they have done this season.
"The winter break came at a bad time for me because I'd had to wait to get back into the team and then it was coming to an end again so it was good to be back with the Dumbarton game and that one was just all about getting through.
"We managed that and hopefully we can improve our performance against Motherwell this week.
"You always want to get straight into it as soon as you can but hopefully Saturday's performance, even though it wasn't convincing, will stand us in good stead."