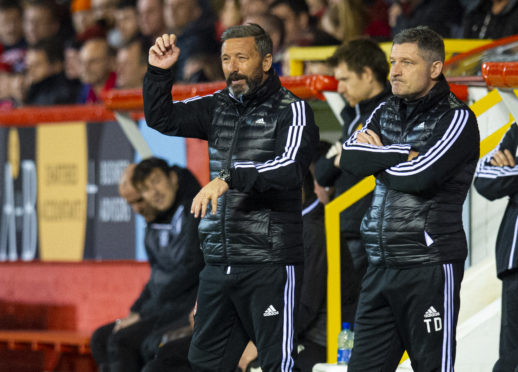 Aberdeen assistant manager Tony Docherty has labelled the criticism of manager Derek McInnes as disrespectful, preposterous and absurd.
A section of the Aberdeen support called for McInnes to go in the closing stages of Sunday's goalless draw with St Mirren in Paisley and it is clear the criticism and subsequent questioning of the manager has drawn the ire of his assistant.
Docherty took the opportunity to face the media at Cormack Park yesterday and he wasted little time in issuing a passionate and staunch defence of the Dons boss.
He said: "I would have to say, on behalf of all the players, staff and everybody, I find it hugely disrespectful.
"I think we need to put into perspective that it was probably half a dozen supporters who made the chant or whatever.
"We have had loads of correspondence from fans saying they were embarrassed, that they didn't want to be a part of that.
"But I find it hugely disrespectful that the narrative is there.
"I'm angry. I know the manager and it's something that's galling to be quite honest.
"I would use the words absurd and preposterous because as well as this manager has done since he has come here, he has also shown a huge amount of loyalty to this football club, its fans, its staff.
"He will never, ever shirk away from anything. He knows we need to be doing a little bit better just now.
"But with the situation and the way that narrative is I think that loyalty has to be reciprocated."
When asked who should know better, Docherty replied: "You judge for yourself, I'll leave that to you."
Docherty claims he was unaware of the chants from the Dons support until after the game and believes it was both unfair and uncalled for.
He said: "We're not in a position like other clubs are in who are struggling for form, we have lost three games in three months.
"Of course, we set those expectation levels with the work that has been done at this football club since the manager has come in. That comes with the territory we know that.
"There's also a narrative that Derek has been here too long. I see him as more driven now than he was the first day he walked in here. This drives him on.
"It's more an inconvenience, more of an irritant.
"I wasn't really aware of it at the time. Sometimes when you go to a ground you can hear things.
"But it wasn't a big thing. It's the disrespect for me.
"I'm talking on behalf of the players, I can't speak for Derek. But knowing him as I do, everything he does he does for Aberdeen Football Club. He is such a highly rated manager.
"You compare us as a club to two other clubs in terms of having a similar budget to us, Hibs and Hearts – every year how much do we finish ahead of them? How many points are we ahead of them?
"That's consistency and staying consistent no matter which players we lose.
"Of course you would be hurt by that, because it's unfair."