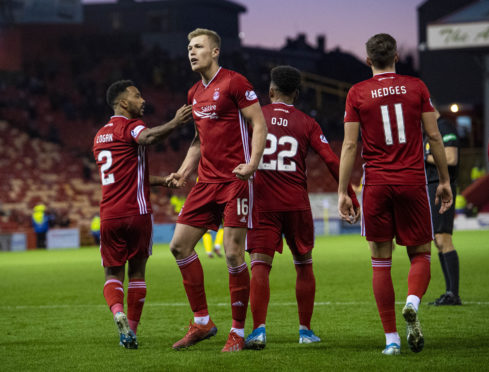 Gothenburg Great Eric Black believes Aberdeen striker Sam Cosgrove can play in the Champions League one day – but has urged the Don to stay at Pittodrie and continue his education.
The Dons striker, who has scored 21 goals for his club this season, is being tracked by English Championship clubs and fans will be anxious to see the transfer window close tonight with their leading scorer still at the club.
Black, who coached Cosgrove at Blackburn Rovers, believes the Englishman has the attitude and work ethic to play at the highest level and expects Cosgrove to be move on in the near future but hopes it is not in this window.
When asked if Cosgrove will leave in January Black said: "I hope not. I hope we manage to keep him until at least the end of the season or longer.
"But you can't stop progress in football and players who score goals are at a premium anywhere.
"I don't see why he can't reach the Champions League.
"Football can go really quickly nowadays and somebody who scores goals is at a premium.
"He's a big powerful boy who'll listen and is desperate to improve regardless of the company he's in.
"I wish him every success and I hope that's the case."
Cosgrove, to his credit, has remained firmly committed to his club despite reported interest from Stoke City, Middlesbrough and New York Red Bulls and Black insists the striker is nowhere near realising his potential.
He said:  "I still don't think he's finished. There's more to come from big Sam.
"As I've said before, there's nobody who deserves it more, is more hard working, who listens to professionals and tries to progress.
"I wish him every success. Hopefully Aberdeen can hang on to him for a wee while longer.
"He's got a lot about him and he's got a really good knowledge of the game. He's still young and I think you get better as you get older, no question."
Black believes the club's training ground, Cormack Park, which was opened by former Dons boss Sir Alex Ferguson in October, is a key tool in manager Derek McInnes and assistant Tony Docherty's efforts to compete with Celtic and Rangers in Scottish football.
He said: "It's always hard. The amount of money that's been spent at Rangers and Celtic we won't even talk about in terms of the strength of their squads.
"I think Derek and Tony have done a fantastic job, I really do. They've done a wonderful job.
"The next step is the training ground which will make a massive difference to the players and hopefully the performances will come with it.
"There's certainly no criticism from me."
He added: "As players start to circulate, as they do quickly in modern football, they come to expect certain things – whether it be the training ground, the rehabilitation, the physios, the kitchen, what they eat, the dietician.
"It becomes a normal part of football.
"I know the boys are exceptionally professional so it only adds to removing excuses from players now.
"There's no reason for them not to perform if you can provide facilities for them to improve."