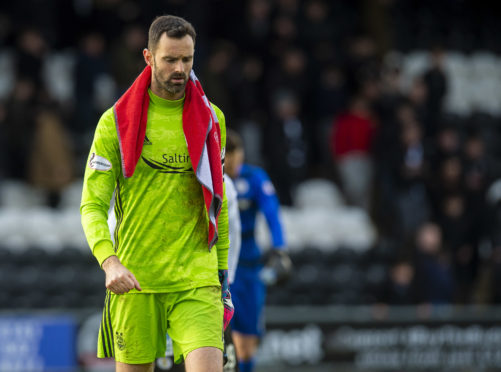 Aberdeen captain Joe Lewis understands the sense of frustration among the Dons support.
Manager Derek McInnes bore the brunt of the fans' ire at the end of Sunday's goalless draw with St Mirren with some supporters going so far as to call for the manager to go.
The response from his assistant Tony Docherty this week was to label the criticism as preposterous, absurd and disrespectful as he sought to defend his boss and colleague in the dugout.
The passionate defence from Docherty has been welcomed by some and castigated by others but Lewis will not argue any fan's right to voice an opinion.
He said: "The fans have every right to express how they feel. I'm not going to sit here and say that they shouldn't be doing what they're doing or saying what they're saying. You can feel their frustration.
"We all have that same frustration when we're not scoring goals or converting good play or winning games that we feel we should win. Everybody has that.
"It's not my place to say to anyone that they shouldn't be doing what they're doing. What I will say is that we've got some young players in this squad that if the fans can get behind us, then that will certainly help."
The disconnect between the manager and a section of the support has been audible but Lewis believes today's trip to Ibrox to face Rangers is the ideal chance to mend bridges and also for the team to show its character.
He said: "I don't feel that the fans are against the team and the manager. There has been a section who are frustrated and have vented that frustration at the manager and the players."