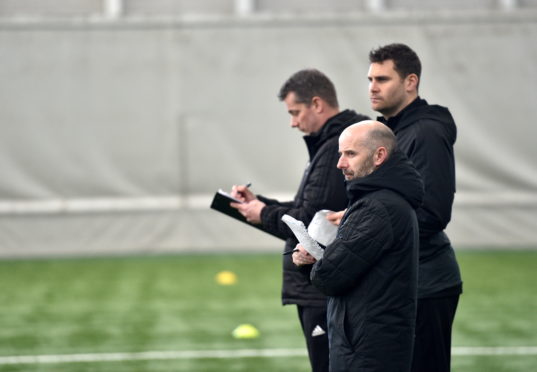 Some of Aberdeen's most talented young footballers impressed in front of national coaches in a bid to secure places at the Scottish FA Performance Schools.
Coaches from Hazlehead Academy, the SFA Performance School for the north-east, Stuart Glennie and Derek Young were joined by Brian McLaughlin, head of the performance school programme, and SFA national goalkeeping coach Fraser Stewart at Aberdeen Sports Village.
They were put through a series of skill-related drills and small-sided games in the final regional trial for places at Hazlehead next year.
Those who were successful will advance to a national trial, involving candidates for all seven Performance Schools, at Toryglen next month.
Glennie said: "The standard on the day was very good. There's a mix between recreational and pro club players and it gives us the chance to compare. We're always making a comparison at national level.
"We're making a judgement call at this stage. It's not the be-all-and-end-all if they don't get in this year and we've stressed that to the kids.
"It may be a case of revisiting it in six months or a year."
Graduates from the Aberdeen Performance School include current Dons Dean Campbell, Seb and Ethan Ross, as well as Archie Mair and Terry Taylor, who left the club for Norwich City and Wolves respectively.