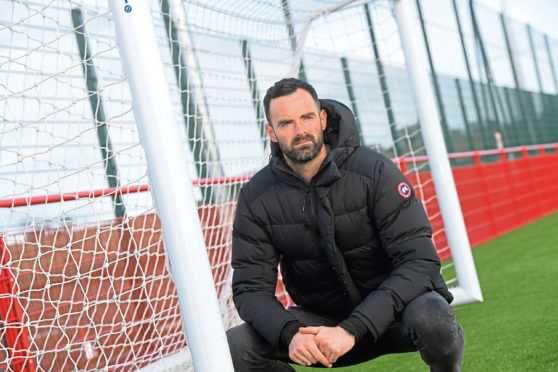 Aberdeen captain Joe Lewis can take a look around Pittodrie and see the images of team-mates Andy Considine, Shay Logan and Niall McGinn clutching their League Cup winners' medals from 2014.
He feels happy for the trio but also jealous that he was not there.
The goalkeeper has two runners-up medals to show for his efforts in a Dons jersey since arriving in Scotland but do not expect to see them adorning the wall of the Lewis family home anytime soon.
A winners medal, however? Well, that would be another matter entirely.
Lewis said: "I've got a box with all my shirts and memorabilia. I haven't got anything up on walls, it's all in a box, but when I retire I'll go through it and reflect on my career.
"Runners-up medals are good memories of what you have done in your career but a winners one is one I would put up on the wall.
"I was never at a club in England that had a realistic chance of winning the FA Cup but up here I am at a club capable of winning.
"There are a few lads still here from when we won the League Cup and I wish I had been part of that. I'm jealous of the guys who were part of it and it is certainly motivation for everyone to join that group just as it for those who were here and are desperate to add a Scottish Cup winners' medal to their League Cup one."
St Mirren stand between the Dons and a semi-final appearance at Hampden and with his side having failed to score on their two previous trips to Saints this season Lewis knows that trend must end tonight.
He said: "They have made it tough for us as we haven't scored in our last two trips down there but hopefully we can win what is a big match for Aberdeen.
"We have to match their enthusiasm and then hopefully we can start to express and show our quality.
Conditions are expected to be testing due to the wet and windy weather tonight Lewis knows his ability to handle the conditions will be crucial.
The Dons skipper has endured some difficult games in recent weeks and he will be doing his pre-match preparation today in the build-up to the quarter-final tie in Paisley.
He said: "The first thing I do when I wake-up is check the weather forecast and the worst thing is the wind.
"The rain is something I can deal with but in the last three or four games the strong wind has made it very difficult.
"That's especially the case for goalkeepers and central defenders as it can make you look silly at times.
"You have to make sure you are concentrating and have your finger crossed that the wind blows in your favour now and then.
"It makes any shots difficult with the ball moving in the air and any long ball forward can be tricky as I wouldn't want to be a centre half waiting under a goalkeeper's long punt.
"Trying to get you head on that or trying to stop someone else getting their head on it can't be easy but it's the same for everyone.
"There are no easy saves but it is the easy ones where you are expected to save them which people see as mistakes.
"The top corner ones or the one-on-one saves, if you don't make them nobody blames you but there are ones which can catch you out."