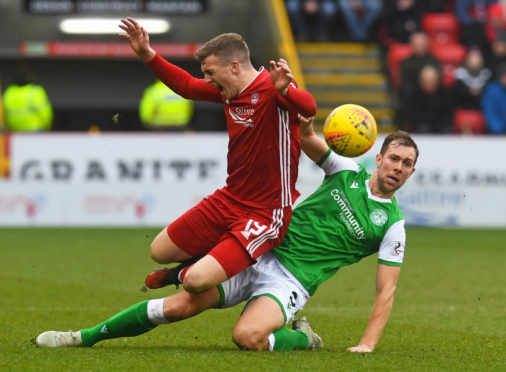 Aberdeen have looked like a side twisting in the wind of fate in recent weeks, unsure why their fortress was crumbling around them and what to do to stop it.
This was decidedly not the case on Saturday.
The dismissal of Steven Whittaker unquestionably proved the turning point of the match, but the reversal of fortunes upon a red card does not happen automatically, as was proved the first time Hibs visited Pittodrie this season. It is the remaining participants who take conscious decisions to make it happen, on both sides.
It was no great surprise that Aberdeen turned the match totally on its head within 10 minutes of the red.
Hibs' players appeared to receive the decision with an acceptance bordering on ambivalence, while the Dons visibly began to pick up the pace.
That Aberdeen compelled the ball into the visitors' net twice within four-and-a-half minutes of going for broke and switching to essentially a back two was a result of sheer force of personality.
The sunken-headed meekness with which Hibs glumly swallowed their fate, at goals to which their defending had made major contributions, will alarm Jack Ross, but the sudden and spectacular success of the Reds' rescue mission could prove a season-saving experience .
After two months of slithering backwards towards the pack,Derek McInnes' side has a foothold from which to launch its final push for Europe.
The Dons once again find themselves significantly clear of those behind them, and approaching a fixture which could return them to third place with their confidence and attacking intent restored.
It is too early to know if it will remain so when engaging rivals at numerical parity, but Whittaker did them a service here.