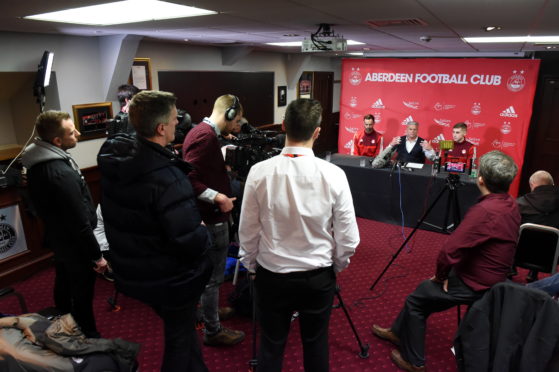 Aberdeen chairman Dave Cormack insists he is 100% behind manager Derek McInnes.
The Dons boss had taken some criticism for the club's patchy form in recent months, with fans at the St Mirren away game chanting for him to go.
However, Cormack made the comparison with another former Aberdeen manager Alex Smith, who took criticism prior to his departure, despite winning two trophies.
McInnes has taken the club to four cup finals and eight semi-finals during his seven-year stint at Pittodrie. He won the League Cup in 2014 and has had the club in Europe every season since.
Cormack, who was speaking at the launch of a series of new initiatives from the Dons, backed McInnes as the man to lead Aberdeen forward.
Cormack said: "I talk to Derek pretty much every day. Derek has 100% got my support because we're all on the same page. At the window, we went out of our way because of the injuries.
"Derek is coming out to Atlanta with me and Steven Gunn, our director of football operations, during the international break. We've got two or three days with Atlanta United, Carlos Bocanegra and Darren Eales on strategy and player development.
"It's always disappointing. Fans pay their money and they're entitled to their opinions. We can't control these opinions. I remember back in the day when the fans called for Alex Smith's head and he'd won two cups, which is outrageous when you look back on one of the more successful periods.
"Derek has said it's been a frustrating season. Nobody can put more pressure on Derek than himself. There are times at night when I'm in the States when I've sent Derek an email, 11pm at night so four in the morning here, and when I wake up at 7am, I've got a reply. Derek is in at Cormack Park working on stuff.
"It's been a frustrating season at home for a period of time. As far as I'm concerned the cup is half full. We've got a great group of players. I will say this for Derek, he doesn't have any prima donnas in there. It's a good group of guys in that squad who are totally behind him."
He wants to increase season tickets by 1,000 to 11,000 for next season, with around £2million in income currently generated by them. An AberDNA membership target of 8,000 has also been set, with Cormack promising to allocate 100 per cent of this revenue towards the football budget.
With the Red Shed – trialled against Dumbarton and Kilmarnock in the Merkland Stand – set to become a regular fixture during the 2020-21 campaign, the upper section of the Richard Donald Stand will also be closing to help improve the atmosphere at Pittodrie.
"The capacity will reduce to 15,500, including an allocation of 1,800 for away supporters.