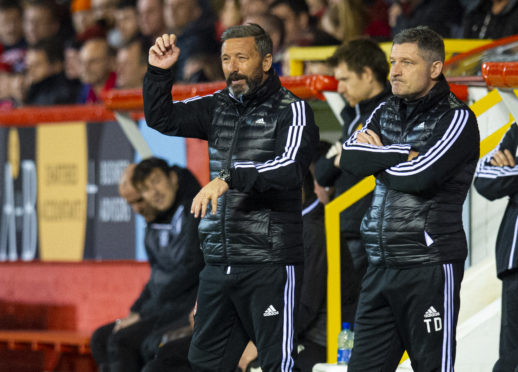 Aberdeen boss Derek McInnes has backed Dave Cormack's efforts to improve match-days at Pittodrie.
Dons chairman Cormack outlined his vision for making Pittodrie a more vibrant and atmospheric place last week, including reducing the capacity to 15,500 and driving the "match-day experience" at games.
The top tier of the Richard Donald Stand will be closed for next season and given over to supporters to decorate. An away allocation of 1,800 means there will be space for 13,7000 Dons fans.
Cormack also outlined his plans to have a marquee with pre-match entertainment on the cricket pitch close to the ground, as well as the Red Shed becoming a permanent fixture in the Merkland Stand. The Atlanta-based businessman also outlined his aims on the Northern Goal podcast last week.
Dave Cormack discovers Scottish football's coronavirus shutdown while recording our Northern Goal podcast:
McInnes said: "The chairman is clearly trying to make those improvements in each department. His biggest thing at the minute is trying to improve the match-day experience and trying to improve the atmosphere. A lot of the things he's trying to do for next season he's talked through with me and I'm fully behind it. What he outlined last week makes a lot of sense and I'm right behind it."
The indefinite shutdown of Scottish football means there is uncertainty when or if the season will conclude. Should it be finished then it will give some of the Dons longer-term injury doubts chance to recover, with Scott Wright in particular being one that may benefit.
Wright damaged his cruciate ligament in training in September but has made significant progress in his recovery.
McInnes added: "He's similar to (Mark) Reynolds in how he's come back – the medical staff have done a brilliant job with him. He's had no setbacks really.
"I'd say he's about three or four weeks away from being available, just to build up his training."