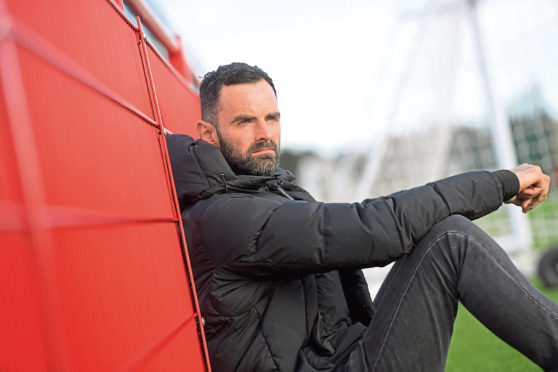 On the face of it, Delia Smith and Dave Cormack do not have a great deal in common.
One is a famous television personality who made her name through cooking while the other is a software entrepreneur whose career took him from his home-town roots to the United States.
However, they are united by a common thread: the love of their football clubs.
Smith is a lifelong Norwich City fan and while her "let's be 'avin you" declaration 15 years ago raised eyebrows, she has been largely praised for the way she has run the Canaries.
Cormack was involved with the Dons in 2000 and returned to the scene in 2017, firstly as vice-chairman. His influence and ability to recruit investors played a crucial role in funding Cormack Park and he was long viewed as the chairman-in-waiting when Stewart Milne called it a day.
A man with a foot in both camps is Aberdeen captain Joe Lewis. He remains a Norwich supporter, after growing up nearby and representing the club through its youth teams, and has embedded himself in the Granite City after moving to Aberdeen in 2016.
He said: "There's lots of football clubs where the owners and the people in charge don't have that feeling for the football team.
"But we are lucky to have a chairman who is a genuine football fan and a genuine Aberdeen supporter.
"You don't get that often enough and it's down to the football club to make the most of that to make sure you capture the imagination of the younger generation.
"When I went to watch Norwich with my dad, they were doing initiatives like getting the kids in for a quid, to get as many of them as possible to the matches and they were well supported as a result.
"Delia Smith has done a really good job for that club as well so there is similarities. They are both great family clubs and the fact that they are both slightly isolated geographically means they have to be."
Cormack announced a raft of new ideas at Pittodrie last week, including reducing the capacity of the old stadium to boost the atmosphere.
Pre-match entertainment is also on the cards, while their AberDNA initiative – a club-engagement subscription – has been extended to give school pupils the chance to become members of the club.
Lewis added: "We are in a similar position here in terms of trying to capture the youngsters' imaginations and it's the players who have to do their part with entertaining football. Doing that and winning trophies will go a long way to getting the fans to come along to Pittodrie."