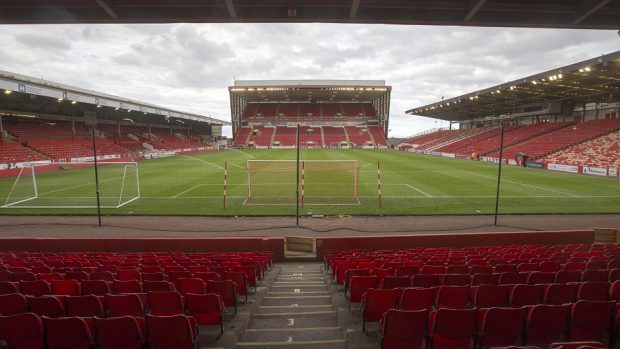 Aberdeen chairman Dave Cormack fears matches may not be played at Pittodrie in front of crowds before the end of the year.
Scottish football is facing a prolonged shutdown due to the coronavirus pandemic and a return to action anytime soon is looking unlikely.
Atlanta-based Cormack announced on Saturday that the Dons squad and management team have agreed wage deferrals of up to 30% for four months to help ease the club's cashflow problems as they face up to a lengthy period without any match-day income.
Cormack has also helped attract £2 million in investment to help tide the club over in the coming months with the Dons chairman predicting the shutdown could cost his club at least £5m.
The SPFL clubs will meet tomorrow to discuss the fate of the 2019-20 season with the possibility of Scotland following Belgium's lead and declaring the season over.
Cormack, however, fears it could be a long time before crowds are permitted back inside football grounds.
He said: "I've spoken to a number of owners of major sports franchises in the United States and privately they are planning for no sport played in front of crowds until the end of this year.
"I think it's something we have to look at. We can't be blinkered. Let's say we are able to relax the isolation in June or July. Can you play games the next day in front of tens of thousands of people? Not likely.
"We must make absolutely sure that in anything we do we look after players and their health.
"So first and foremost, even behind closed doors, is it safe for the players to play?
"I chatted to Ron Gordon (the Hibernian owner) and my view is that we need to pull something together for all the games to be shown live.
"For example, the season tickets the fans are buying right now would allow them to see the games live. I'm probably getting ahead of myself, but I just think it is important for us to plan for what might be."
Cormack praised Derek McInnes and his squad for playing their part in helping the club tackle the financial challenges that lie ahead.
He said: "Everybody has been completely supportive of what we've done.
"In particular, Derek and the players wanted to make sure that the lesser earners, such as academy players and club staff, were protected with a plan that made sense.
"I've heard of other chairmen dealing directly with agents and players, but Derek has 100% dealt with our captain Joe Lewis and the players, which has taken a massive burden off me."