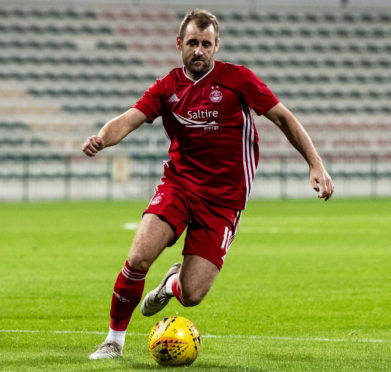 Aberdeen attacker Niall McGinn admits playing games behind closed doors may be a necessary compromise if Scottish football is to return in the foreseeable future.
The Dons have not played a competitive match since defeating Hibernian 3-1 at Pittodrie on March 7.
Scottish sport minister Joe Fitzpatrick met with the Scottish FA, the SPFL, Scottish Rugby and Scottish Racing yesterday to discuss a phased return of sporting events.
McGinn accepts it is likely that spectators are unlikely to be in attendance when matches finally return.
He said: "I'm not sure what the future holds in terms of getting back to playing football.
"I know talk has been made about playing behind closed doors and whilst it may not be ideal I think most now recognise it might be a necessary compromise to get football going again in this country.
"I was involved in one closed doors game with Northern Ireland.
"It was away to Serbia in 2011. I did not play in the game in Belgrade, but remember there were around 200 Northern Ireland fans who had made the trip so were allowed in, plus about 100 friends and family from the Serbian team.
"It was still a very strange experience inside a 55,000 stadium.
"It would be even stranger playing in front of no fans at all, but it would allow us the chance to get back playing and I think everyone would welcome that.
"It will only happen though when it is safe to do so and that means no corners can be cut.
"The plans have to be very thorough. It could, for example, mean we have to get tested before and after games.
"When the safety measures are in place and the government give the go ahead, then hopefully we can get back playing again."
McGinn admits it has been a challenge to maintain his fitness levels during the lockdown.
He said: "We are not on our strict training programme that we had been doing since the lockdown.
"I have taken a few days off but have still been working out to keep myself ticking over. I have been doing some work on the bike.
"It is important for everyone to get out of the house and do a bit of exercise at the moment, not just professional footballers.
"So I am still doing a good bit of work without overdoing it. I have done a lot of good work over the last five weeks and I do not want to lose it.
"I am used to continuously going for long spells playing football without a break, and I was really enjoying my football there, so I want to keep myself ticking over.
"During the next couple of weeks we are going to start on another programme that will hopefully lead us into starting back at the training ground. Fingers crossed but it is just a waiting game at the moment.
"You can get bogged down in all the different scenarios. It is just a waiting game for us and we have to be ready for when it comes."