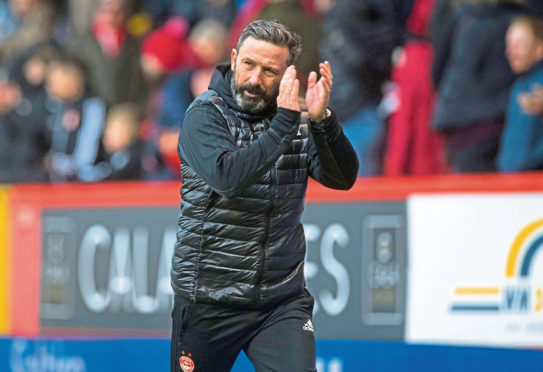 Aberdeen manager Derek McInnes hopes the high-stakes new format for next season's Europa League qualifiers can bring out the best in his side.
Due to the coronavirus pandemic this season's European competitions will not be concluded until August meaning the Dons, who traditionally start their campaign at the end of June, will not get their latest bid to reach the group stages underway until August 27.
The pandemic has also forced Uefa to revise the format for next season with the traditional two-leg rounds replaced by one-off matches with home advantage determined by the luck of the draw.
McInnes knows the stakes will be even higher as he prepares to lead his team into Europe for the seventh straight season.
He said: "With it just being one game, you have to be cute and there is no room for error.
"You won't be able to get away with a bad performance.
"I have always said you need two good performances to get through and when we have progressed we've usually done well away from home.
"And the times we haven't, it has been down to not being good enough in the away tie.
"It's a different dynamic, it's ninety minutes and that's it.
"They will be exciting games with so much at stake."
The Dons are used to returning to training early to prepare for European competition but McInnes hopes a later start this year can work to his side's advantage.
Aberdeen will have the luxury of having played at least four league games before playing in Europe, a luxury McInnes has never had previously.
He said: "We have gone into them before the domestic season has started before, but that won't be the case this time hopefully and we'll have had games.
"So that could help us and be beneficial to our chances.
"We will be more up to speed than we have been in previous years with having those league games."
While the format will ensure there is no margin for error in qualifying the Dons boss believes clubs will be happy to adapt under the circumstances.
He said: "I think what Uefa have put in place is the only way they could have done it.
"A one-off game format will be a departure from trying to manage the games like we have in the past.
"It won't be what we are used to and it will be a different competition in the early stages because of it.
"But given everything that has been going on, all the clubs will just be glad it's happening at all.
"Usually you start the early games June or July but with it not being until the end of August, there's no way they could have kept the same format."