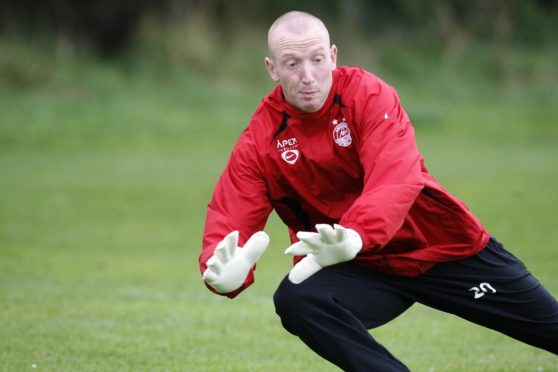 Former Aberdeen and Ross County goalkeeper Derek Soutar has warned clubs against scaling back or scrapping their youth academies as they look to make savings.
The coronavirus crisis has hit Scottish football hard with clubs across the country looking to cut costs.
Two of Soutar's former clubs, the Dons and Dundee, are discussing wage cuts with staff, while Hibs are doing the same and have also mothballed their youth set-up.
During Soutar's first spell at Dundee the club entered administration in November 2003. In a bid to save cash the Dens Park side ditched their youth set-up.
Although it was later restarted Soutar felt it had a negative impact on the club and hopes sides don't do similar during the pandemic in an attempt to save money.
The 39-year-old, who played for Aberdeen from 2006-2008, said: "One of the biggest things for Scottish football going forward is for youth systems to remain in place.
"When Dundee went into administration they scrapped their youth system and that effected the club's stability for a long period of time.
"Ultimately you're youth system is the future of the club. I use Dundee as an example now they've got a great youth system with Gordon Strachan overseeing it and Stephen Wright running the academy. When I saw Hibs had mothballed their youth system I was surprised.
"They had one of the best in the country and they've made millions from it in the past so to scrap it isn't good.
"Dundee had a great youth system in the past and scrapping it meant they didn't bring anybody through and they were having to pay for players or try to pick up free transfers and performances suffered.
"But the standard of kids at eight-years-old and up the way at Dundee is very good and I'm excited for the future of Dundee when I see the talent.
"If they can sustain the structure they've got and bring the kids through the future might be very bright for Dundee and they'll get rewards further down the line."
Although wage cuts are being discussed, scaling back their youth academy is not something that's on Aberdeen's radar.
Soutar says that's a good thing and hopes the Dons – who moved into Cormack Park last year – can reap the rewards of their new training facilities when it comes to bringing through young talent.
The former Scotland Under-21 custodian, who spent the 2008-09 season with Ross County, added: "I know Aberdeen have a very good youth system as well with a great level of coaching.
"Aberdeen have always been renowned for bringing through players from their youth system.
"There hasn't been any talk of their youth system being scaled back and that's good because they have a good system in place.
"They also have one of the best facilities in the country now in Cormack Park so they need to utilise it and build up the youth system.
"Aberdeen will want a conveyor belt of players coming through that can go into the first-team and potential be sold on and make the club good money.
"Scottish clubs need to be looking to do that. Gone are the days when Aberdeen will spent a few hundred thousand on players because they don't have the money to spend.
"Derek McInnes and Tony Docherty have done an unbelievable job when it comes to recruitment in recent years with some of the players they've managed to get on free transfers.
"But I think particularly off the back of this pandemic giving youth a chance is going to have to be the way forward for most clubs."