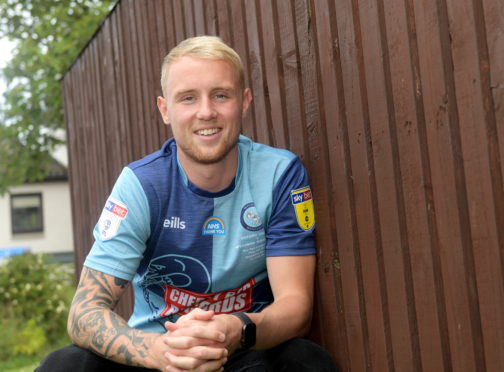 The moment was captured perfectly. Jack Grimmer, phone in hand and tears in his eyes, had landed on cloud nine.
The Aberdonian was stood in an empty Wembley Stadium, having just won promotion to the Championship with Wycombe Wanderers, with team-mates around him going through the same highs.
Relative after relative was getting FaceTimed from the pitch, as he struggled to take everything in.
"Because it was so quiet, you could FaceTime your families on the pitch and it made such a different, special moment," said Grimmer.
"Your family could be involved. You're walking round an empty Wembley Stadium, covered in champagne with a medal round your neck. There's no words to describe what I felt.
"I FaceTimed Sammy, my fiancé, and as soon as she cried, I cried. A photographer managed to capture the moment and these photos are priceless.
"I went on to my mum, my sister, my mates and even my granny got a FaceTime. You want to involve as many people as possible.
"I had to FaceTime Sammy again because all I did the first time was cry.
"It's something for months that you'd envisioned, what it would feel like, all those emotions come flooding into you.
"Weirdly, it was a year to the day that the gaffer phoned me and asked me to come in."
Their 2-1 win over Oxford United had been built on stories of players being discarded and having to find new paths in the game.
Matt Bloomfield, the Wycombe captain, has lived the club for 16 years and 500 appearances. The day was for people like him.
The players have behind rallied behind manager Gareth Ainsworth, a figurehead with rock-star looks but rock-solid principles, who has invested in the project at Wycombe since 2012.
The aftermath became characterised by a Sky Sports graphic that showed Oxford as first in numerous passing categories, with Wycombe 23rd. 'We did it our way' was the response from the club's Twitter account.
"We found our way of playing and credit to the manager, he doesn't sugarcoat it. He knows what we're good at.
"During the game, even their players were saying 'all you do is kick it' and I'm like 'we're winning 2-1, I don't give a s***'.
"We found what we were good at. If you're that much better than us, beat us.
"Since the game, I've screamed about how good a man-manager he is. But tactically, he got it spot on.
"People maybe don't see the little things because we put Akinfenwa on and we just pump it up to him. There's so much more goes into it. "
Grimmer was just one of those who had to take a route less-travelled to get his moment.
He started out at Aberdeen, a 16-year-old who in 2010 became the club's youngest-ever player.
It was an honour he held until Dean Campbell took it in 2017.
His youth coaches at Aberdeen hold a special place for him. Neil Simpson, the jovial Gothenburg Great who still heads up the Dons' youth development, and Neil Cooper – 'every second word out of Neil Cooper's mouth was a swear word' – were Grimmer's earliest mentors.
"I was lucky at the time; my PE teacher worked out something with the club, that I could see her once a week and go train with the club when I was 15.
Neil Simpson and Neil Cooper, who were Grimmer's youth coaches at Aberdeen
"I was going into this environment thinking 'what is happening here?'. It's that first step into man's football.
"Neil Cooper wouldn't pull any punches. He would tell you exactly what he thought.
"But if Simmy thought you hadn't ran enough for the badge – he could deal with mistakes but if he thought you hadn't worked hard enough, he would raise his voice and you'd know something was wrong."
A homecoming, somewhere down the line, is something that appeals.
His mother still lives in Westhill, on the outskirts of the city where the club's new training ground at Cormack Park is situated.
He had been able to visit during the last couple of months and his runs took him past the new complex, a far cry from his days of getting into minibuses to go to playing fields or army barracks.
Jack Grimmer at his family home in Westhill. Photo by Kath Flannery
"I just think never say never. It's where I'm from, I was a season-ticket holder as a kid.
"From a distance I've looked in and it's such an exciting transition with Dave Cormack coming in (as chairman), moving to the new stadium and training ground.
"I'm a fan, I've been a fan for the eight years since I left.
"It's been a really interesting transition looking in from the outside."
He came through with a prodigious group of players at Aberdeen.
Ryan Jack, Ryan Fraser, Fraser Fyvie, Cammy Smith, Scott Bain and Declan McManus have all played top flight football in either England or Scotland. Some of them both.
When Fyvie moved to Cove Rangers at the start of last season, Grimmer knew success was almost destined.
Already in that squad were more former colleagues from the Dons academy, namely Scott Ross, Jamie Masson, Mitch Megginson and Jordon Brown.
"I'm so glad they're doing what they're doing now. When they all got together, I thought 'well there's only one direction they're going'. I'm so glad they're finally getting the praise they deserve.
"Ryan Jack, Ryan Fraser, Fraser Fyvie, Cammy Smith; it was a good cluster of players through an age gap of about three years. Ryan Fraser has gone on to become a Premier League player.
"I do still keep an eye on the youth setup and the players coming through – even when Dean Campbell took my record off me!
"To say once upon a time, I was their youngest player is enough for me, given it's my home club. It's maybe a regret that I didn't feature more in the two years before I left.
"But hopefully that door is not closed for me and you never know what could happen in the future."
Jack, now at Rangers, and Fraser, a free agent after choosing to leave Bournemouth, have both gone on to represent the national side.
It still gnaws at the 26-year-old that he only picked up the solitary cap for the under-21s, featuring in a 2-2 draw with Hungary in 2014.
When he found himself out of work last summer, prior to joining Wycombe, returning back north was under serious consideration.
Playing in the Scottish Premiership, so he thought, could have provided a greater shop window into the national team.
But with Championship football around the corner, the spotlight is still there to be cast under.
"It's always something in the back of my mind, having been very fortunate to play for the under-15s, 16s and 19s.
"It always is a sore spot for me that I only got one cap for the under-21s. It's in the back of my mind – every player wants to be in the squad and if you produce the goods for your club, hopefully you do get that chance.
"Players have made their debuts a lot older than 26 and I hope the door is never closed on players, as managers are always looking for what can help them next. You hope one day it can come true.
"It was in my thoughts, coming back to Scotland in the summer, for me that would have helped my case as playing in Scotland every week can only help your case for the national side.
"But playing in the Championship can only do my case some good."
His own journey after leaving Aberdeen took him to a "turbulent" Fulham, with the revolving door of managers doing little to improve a young player's confidence.
Loan spells at Port Vale and Shrewsbury followed, before Coventry City picked him up in 2017.
He was a regular in his first campaign, which culminated in him scoring the third goal at Wembley – an angling, left-footed effort – that sealed the Sky Blues' promotion from League Two.
Mark Robins' decision to bring in Dujon Sterling from Chelsea the following season curtailed his involvement and left him pondering where next.
Taking the call from Ainsworth proved a masterstroke and on Monday night, Grimmer picked up his second winners' medal from Wembley. He has not taken it off since.
"Given lockdown, I haven't seen people for so long. I've not taken my medal off and I'm showing it to everyone that cares.
"Everyone, now, is buzzing to see everyone, because they've spent such a long time away from family and friends.
"Any encounter, people are just delighted with.
"It's actually making it more special, that the next time I see people I've had this achievement.
"It's nice to be back home and to see people now."
Team-mate Adebayo Akinfenwa's post-match interview, infectious with the joy of the occasion, culminated in a shout-out to Liverpool manager Jurgen Klopp.
Not one to disappoint, the Liverpool manager, fresh from his own recent success, delivered a response.
"He got the video from Jurgen Klopp and he played it through the speakers on our bus, so everyone could listen to it.
"We all sang him a rendition of You'll Never Walk Alone. These memories, no-one can give you this. "
The long drive back to Aberdeen on Wednesday gave him time to think and take stock.
Even when the grey clouds started rolling in – a sure-fire sign he was nearly home – as he got past Dundee, the magic was not wearing off.
"It is one of those modern-day fairytales. There were so many people in that changing room who had been written off.
"We've got an experienced squad – our captain has had 15 years at Wycombe, the manager has been there so long on a project.
"All of these things added together just makes you want to do it so much. To see the captain at the end, I'd never seen someone succumb so much to emotion in my life.
"The one at Coventry was expected. It was a lot of relief in the celebrations.
"This one, I had to try pick my jaw up off the floor. I've not been able to.
"To do it with such a special group of guys, with their own individual stories, makes it even more special."