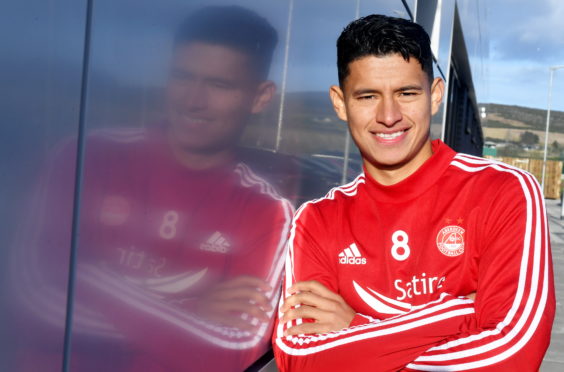 Aberdeen defender Ronny Hernandez admits spending lockdown away from his family was hugely challenging but thanked his teammates and the city's Venezuelan community for helping him through it.
Hernandez moved to Aberdeen from Norwegian side Stabaek on deadline day in January and had made only two appearances for the Dons before Scottish football was halted by the coronavirus crisis in March.
The Venezuelan international's family were due to join up with him in the Granite City in March but the travel restrictions left the 22-year-old in Scotland by himself.
He said: "I have been on my own in Aberdeen the whole time. It was really hard as I have my family.
"At that point, they were supposed to come here to join me, but unfortunately this happened and everything slowed down. There was no way to get them here.
"I spent the lockdown on my own and, of course, I hope they can get here soon.
"We are waiting for the rulers of Venezuela to say when they will re-open the international flights to get them here.
"I kept in touch with the other guys from the team, which was good for me. That helped me settle in a bit quicker.
"Funso Ojo is the closest teammate to me because we live only a five-minute walk away from each other.
"Everything Funso has been through in the past is the reason why he is the person he is now.
"It is good to have him in the locker room because he can teach us a lot through his experiences.
"I am still young and need to learn some stuff. He is a very nice guy, everyone can see that."
Hernandez says meeting up with people from his homeland in the city has prevented him feeling too homesick.
He said: "Many fans have been really great with me.
"There is a small Venezuelan community in Aberdeen, which is good.
"We have Venezuelan food in Aberdeen. There is a local restaurant on Union Street, Latin Way, and there is Cognito on the Corner. Some of the cooks there are from Venezuela.
"Sometimes they bring me food to my home, which has been great. To have my own food is nice.
"Aberdeen is a small city and I like it. I also like the small, quiet towns in Aberdeenshire.
"I try to keep my mind peaceful because sometimes it gets tough as I miss my family a lot."
Hernandez, an attack-minded full-back, is confident he can show the Aberdeen support why the Dons shelled out a substantial six-figure fee for his services when the new season starts.
He said: "I am very excited for the new season.
"This is a big opportunity for me and a big challenge. I want to take advantage when I get an opportunity on the pitch and do my best for the club and the fans.
"Pre-season has been great. I believe we are going the right way. I need to be patient and take the opportunity when it comes.
"After five months getting to know the lads I feel like we have more of a connection.
"That is important because the more connections you have with your teammates, the more you will give in the game."
But the Venezuelan admits he is still struggling at times to understand some of his teammates.
He added: "To be honest, the teammates I struggle to understand are Matty (Kennedy) and Jonny (Hayes).
"It is sometimes difficult.
"When we talk about anything, I try to focus to understand what they are saying.
"I have coffee with Matty sometimes and I have to ask him to tell me it again because I don't understand.
"I am honest and I feel I have the freedom to tell someone that. Sometimes we are scared and we feel ashamed to ask, but it is getting better."