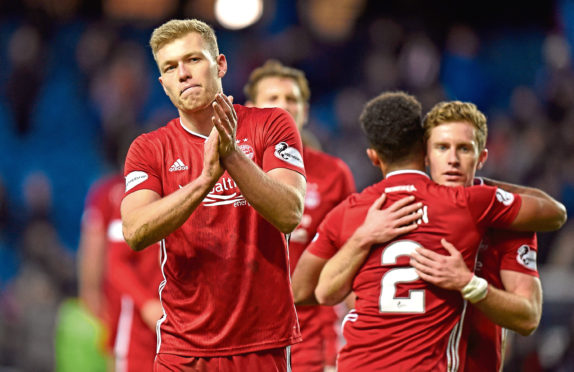 Aberdeen manager Derek McInnes expects more clubs to try to prise Sam Cosgrove away from Pittodrie.
The Dons boss also admitted his club will have to sell Cosgrove in this transfer window or next in order to maximise the fee they receive for the Englishman, who is under contract until 2022.
French Ligue 2 side Guingamp had a bid in excess of £2million accepted for Cosgrove earlier this month but the striker opted against a move to the Continent.
Several clubs in the English Championship, including Stoke City and Middlesbrough, have been weighing up a move for the Dons' leading scorer for the past two seasons, while there have also been reports of interest in Germany.
McInnes said: "I think he'll be on the radar of a lot of people and a lot of clubs will be well aware of him.
"There are certain leagues that clubs target and there's no doubt that his name will be discussed.
"In England the promotion and relegation side of it is just getting sorted out and with the extension of the transfer window (until October 5) means I'm pretty sure we will be tested.
"But it's got to be right for everybody, first and foremost it's got to be right for the club when it comes to the offer.
"Sam didn't feel that one was right for him, but next time round it might be something that feels more right and we need to brace ourselves for that for any of our good players."
The Dons signed Cosgrove from Carlisle United for £20,000 in January 2018 and McInnes accepts the club won't be able to command the same level of transfer fee as Guingamp offered if they hold on to their prized asset for too long.
He said: "I don't know exactly what the figure was, there were incentives with future sell-ons and if Guingamp got promoted so there was those bits and pieces and the likelihood of additional income coming into the club over a period of time.
"I can understand totally why the club would look at that in these circumstances.
"We've been pretty strong and the message from the chairman has been that we won't be selling willy-nilly.
"It was such a strong offer that you couldn't put it in that category. Is Sam worth a bit more? Potentially.
"But weighing everything up, I understand totally why the club accepted it and I think all in the overall package not just the upfront payment was a substantial amount.
"Sam's got two years left and we know that this window and next is the best chance for us to maximise the potential of Sam.
"Even this time next year if he's hit 25 goals he's got one year on his contract and we're in a bit of vulnerable position so taking into account all those factors I understand why the bid was accepted."
McInnes, meanwhile, is happy with the progress his side are making ahead of the start of the season, despite a late call-off for a scheduled bounce game last week.
He added: "We have managed to get a few games. We took on Stuart Kettlewell's Ross County last Saturday and it was great to get the boys back playing proper football.
"During the week we were let down by a team, who will remain nameless, for a game. They cancelled quite late on.
"We have had two 11 v 11 practice matches. We had one on Saturday at the training ground with referees and boys in their match kit as well.
"It is something you can do if you have enough bodies and Saturday was the first time we had enough bodies to get 22 players onto the pitch.
"The benefit of that is you can give the majority of the squad 90 minutes.
"It was a good exercise."