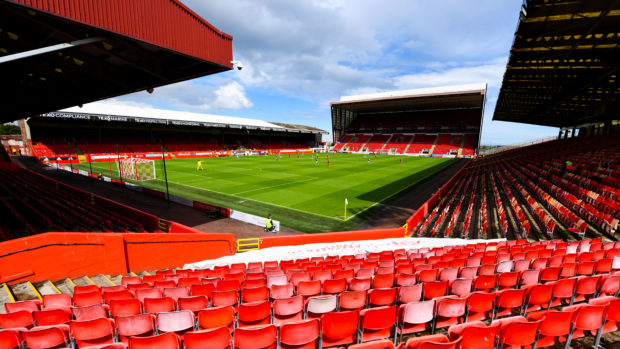 Four-and-a-half months in cold storage and Scottish football is back in the spotlight. Let's not blow it.
For a rare few weeks, all eyes will be on the Scottish game, on these shores at least.
Starting this Saturday at Pittodrie, football in this country will have a captive audience while the English domestic campaigns finish.
Sky Sports has taken sole ownership of the broadcast contract this season. Its coverage in the past has been left wanting on occasions, with graphical errors and typos cheapening the product on offer.
Many have lauded BT Sport for its coverage of Scottish football, with figures like Darrell Currie, Stephen Craigen and Chris Sutton heavily involved.
Sky has been playing catch-up. The Aberdeen versus Rangers game on Saturday has been moved to an early kick-off to avoid clashing with the FA Cup final between Arsenal and Chelsea.
There is at least some common sense there to ensure that anyone who wants a prolonged football fix – or wants to watch both games – does not have to pick and choose.
Plus, watching football at all hours has become the norm for fans of the game over the last wee while. I don't care too much for either Burnley or Norwich, but I still tuned in anyway, because it was on.
Hopefully it does not reach the saturation point it has with the English games. The fetishisation of the English Premier League is built on the fact we do not see every game, just the ones plucked up by broadcasters as having the most blockbuster potential.
It was a noble idea to screen every game live, a way of offering an olive branch to supporters who were unable to get into stadiums and see their teams play.
But it has also showcased its fair share of dire games, ones that would not ordinarily see the light of day when the world was normal.
Crystal Palace-Everton ought to be confined to a 3pm slot and nothing more ever said of it.
With such an extended period without football and so much farcical, hyperbolic behaviour off the field, the Scottish game has been tarnished in the absence of any action.
Boardroom and courtroom politics have become the sport of choice rather than actually kicking a ball round a field. No one is the winner in that scenario.
Aberdeen versus Rangers is a fixture ripe with angst, tension and mischief, but let's hope it is a great curtain-raiser to a great season.
It is, of course, behind closed doors when there is little doubt that having the supporters goading and baying at each other would have added to the spectacle. We will have to make do with whatever X-rated verbals are picked up by the microphones.
So let's make hay while the sun shines. Give Scottish football the chance to prove what it can offer and be an entertaining watch all on its own while big brother is out of the house.