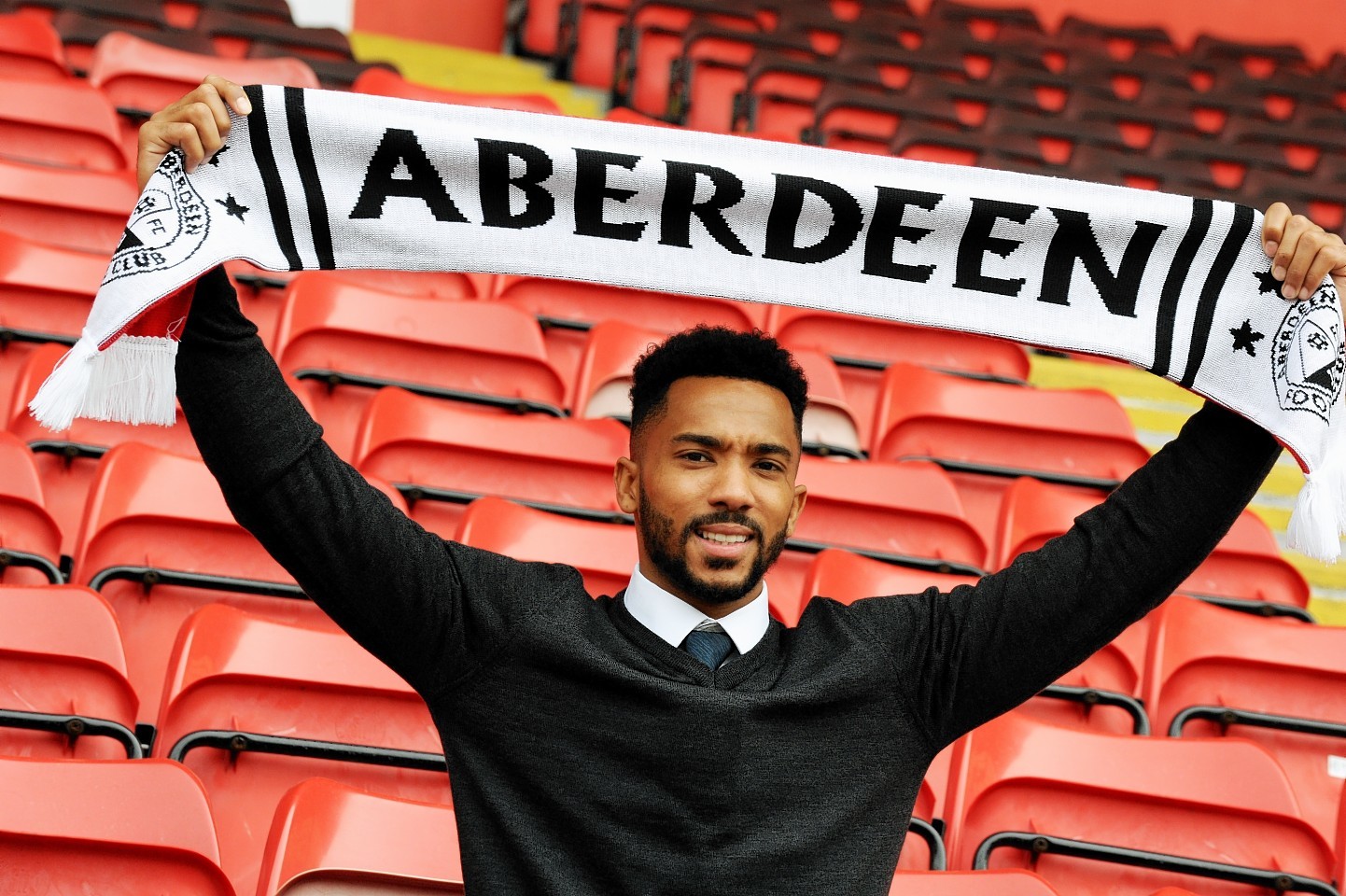 Family rather than football has always been the priority for Aberdeen's Shay Logan. Being able to balance both was the key behind making a permanent switch to Pittodrie.
The 26-year-old defender, who impressed after joining the Dons on loan from Brentford in January, said ensuring he would have time to be a father as well as a footballer was the key reason behind agreeing a pre-contract at Pittodrie yesterday.
The Aberdeen supporters will be delighted Logan, who will sign a two-year deal with the Dons at the beginning of July, has committed his future to the club.
The former Manchester City youth player was unsure what to expect in his first taste of Scottish football when he was handed his debut for the Dons in the League Cup semi-final against St Johnstone.
Logan passed his audition with ease as the Dons made it to a first cup final in 14 years with a 4-0 win against the Perth Saints.
The Englishman went on to help the club to a penalty shootout victory in the League Cup final against Caley Thistle on March 16 as well as a third-place finish in the Scottish Premiership to secure the return of European football to Pittodrie.
Logan said his time at the Dons had surpassed all his expectations and was eager to join McInnes's side on a permanent basis.
But ensuring he was going to be able to spend time with son Kaleb, four, and one-year-old daughter Milan was pivotal before signing.
He said: "On my days off I will go home and see the family.
"Aberdeen is a long way from Manchester but it is only 50 minutes on a plane. If I get the days off then it is not a massive problem. I am happiest when I am playing football and also getting to see my little boy and girl.
"Derek gave me the chance to do that last season and, hopefully, my performances last season showed when I am happy and settled I do my best.
"Hopefully, I can continue like that and we can have a good run.
"I wanted a two-year deal at least for assurance that I can provide for my family. I felt choosing Aberdeen was the best place to be."
Logan is determined to repay manager McInnes on the pitch for allowing him the additional time to spend with his family.
He said: "Derek has always been honest with me and that is all I ask for. I am always honest with him.
"He tells me when I'm doing wrong and when I'm doing right.
"He knows the situation with my family, so he did give me some time off last season. When there were games during the week I knew I couldn't have that time off and I know that goes with the job. But when the games were going from Saturday to Saturday then he would give me Sunday and Monday off.
"That was really good for me.
"I am happiest when I am playing well and I am playing well when I am happy and seeing the little man and my little girl. Getting back home helps me play well."
Logan knows he and the rest of the Dons squad have their work cut out to build on last season's success, which included winning the club's first trophy in 19 years.
However, after experiencing the thrill of winning a cup final in front of 40,000 Dons supporters and the celebrations down a packed Union Street a week later, Logan is eager to sample it all again.
He added: "My time at Aberdeen is certainly up there with some of the best in my career.
"When we won the cup, I had never experienced anything like that before.
"That has been my highlight in football.
"I played in the Premier League in England, and everyone wants to do that, but to win the cup and go down Union Street on the open-top bus was what dreams are made of.
"I have never experienced anything like that.
"Hopefully, next season there is a lot more of that come."