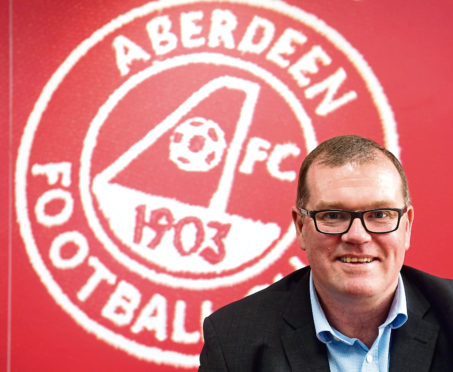 Aberdeen commercial director Rob Wicks says the Dons are doing all they can to make Saturday's fans trial a success.
The Dons are one of two clubs, the other being Ross County, to have been given permission to admit 300 supporters into their respective home grounds this weekend.
While the Staggies host Celtic the Dons entertain Kilmarnock at Pittodrie with season ticket holders who wish to enter the ballot urged to register their entry by 5pm tonight.
Only season ticket holders who purchased tickets before July 10 are eligible and the club will inform the lucky winners tomorrow.
Aberdeen are planning to admit a varied and comprehensive cross-section of fans for the game.
Wicks said: "Whether it was 300, 3,000 or 20,000 it is the same amount of work. The reality is, what we've got to do is make this a proper trial. The idea is we'll have groups of four, three, two and one as we want to make it a proper test.
"We want to see how it works for a disabled supporter, two people arriving together or four. We'll have a supporter liaison officer, members of the supporter engagement team and additional stewards available to make sure this is a safe and positive experience.
"If four people are all season ticket holders form the same household can come that is important for us.
"We want to understand and work on how we need to get four people down a row of seats versus one person. These are the things we have to manage our way through.
"It is one thing managing it for 300 people but let's say we get to 7,500 or 9,000 people at some point we have to be able to do it equally well for that number."
Entry will be restricted to the South Stand for this weekend's trial and while Wicks is confident the Dons have planned admission carefully he has pleaded with those lucky enough to gain entry to be patient and understanding of the arrangements which have been put in place.
He said: "Rather than using the entire stadium we want to put them into an area where we are meeting at the very minimum the requirements the government has set out. We will open a portion of the South Stand and make it a proper trial.
"Only the South Stand will be in use and fans will not be sitting in seats they are used to. We will use the away entrance which makes it more practical and easier to start with.
"We're going to ask fans to be patient with us as it is a learning experience for them as well as us and the goal for us is to make sure Saturday goes really well so the next opportunity to have a larger trial is also successful.