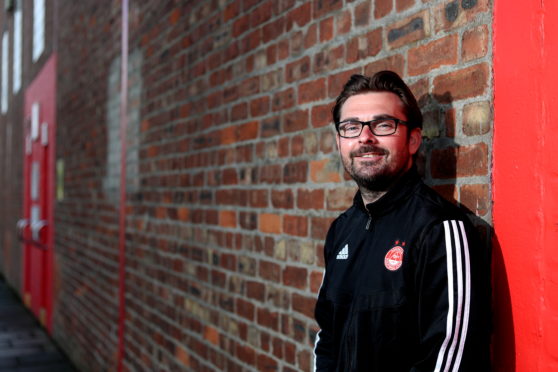 The season may have changed but the objectives for Aberdeen Women remain the same.
The pandemic prompted the cancellation of the original 2020 season after just one round of games, before the decision was taken to align it with a traditional winter calendar.
The Dons have been building towards a return to the top flight of women's football in Scotland after an unbeaten 2019 season that took them into the second tier.
Emma Hunter remains as one half of the managerial duo but after Harley Hamdani's emigration to Australia, Stuart Bathgate has stepped into the co-manager role.
A home fixture against Dundee United starts their season at Cormack Park on Sunday, with fervent hopes the Dons are celebrating come April 2021.
"We've been quite clear on that, we're trying to get ourselves back into PL1," said Bathgate.
"No one's made any secret of that.
"Getting the players back and through the first few weeks of the season unscathed is a big thing. It's been so long without football so to be able to come through that, without any serious injuries, is a key thing for us to keep the squad together.
"The season that never was saw us bring in a couple of new faces at the start of the year.
"We've only really lost one or two and that's down to work commitments, which is completely understandable.
"We've managed to recruit Bailey Collins from Aberdeen Ladies under-19s, which has been great for her.
"We're always looking to add quality, but we're comfortable with where we're at."
Bathgate, formerly of Westdyke Ladies, has thrown himself headlong into his new role, which came just before football shut down at the start of the year.
Having a season to prepare for has helped on a personal level too, with Bathgate recently losing his job working in sales in the oil and gas industry.
"It's been good to have that to keep the mind occupied, so you're not dwelling on stuff," he added.
"We've had a few pre-season friendlies – we managed to pick up a game against Dundee United, bizarrely before we knew we were going to be playing them (on the first day).
"That was hastily arranged after they were let down at the 11th hour.
"We had an internal bounce game, Hibs and Forfar back-to-back, which have been really good tests for us."