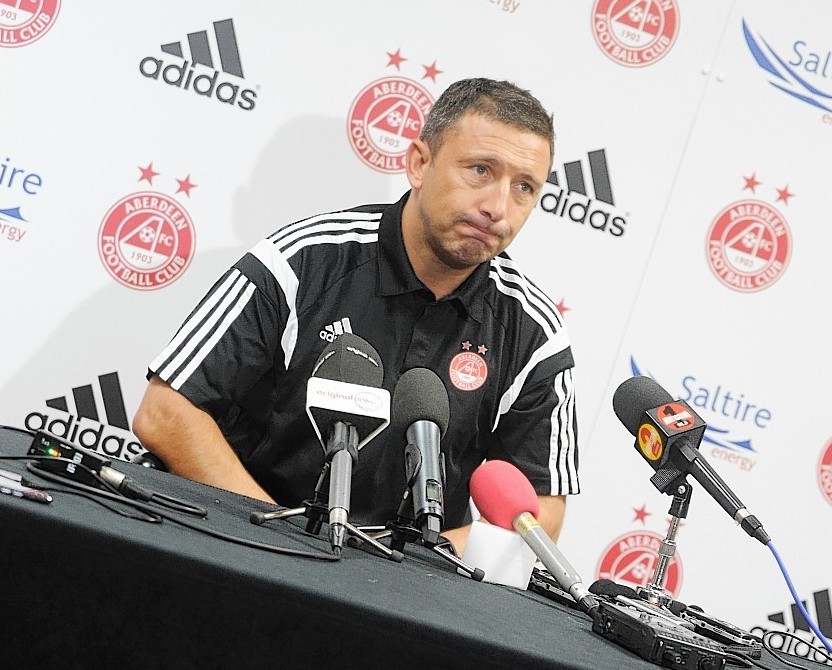 Aberdeen manager Derek McInnes will not use Kilmarnock's plastic pitch as an excuse if his side fall to a fourth defeat in succession tonight.
Two losses to Spanish club Real Sociedad in the Europa League followed by a 3-0 opening day reverse to Dundee United at Pittodrie on Sunday have increased the need for a win at Rugby Park tonight.
Kilmarnock have spent £500,000 on the new artificial surface but McInnes said: "It's not ideal and I do think Kilmarnock was one of the better grass surfaces.
"I always enjoyed playing there and it is disappointing they have felt the need to do that, but obviously they have thought long and hard about it.
"Win, lose or draw it's not going to be down to the pitch as there will be no excuses, but I would rather play on a grass pitch.
"The players would as well but they know it is nothing to do with that as we won't accept that as a reason for not doing well.
"We won in the cup against Falkirk on an artificial pitch last season with a really strong performance and a good result which showed the players adapted to it quite quickly.
"I would expect us to have no problems or issues with that.
"There are a lot of reasons for installing them and they are a lot better than the Astroturf pitches of the past.
"I can understand from a community and financial point of view that clubs are turning to it and we will see more and more of it."
The Europa League campaign took a toll on the Aberdeen squad but McInnes will not allow tiredness to come into his players' thoughts. He added: "We have had a few extra days to recover again and we asked the squad to do very little in the last couple of days.
"I just felt that it took a lot out of us on Thursday going toe-to-toe with Real Sociedad and maybe there were a few players maybe not 100% at it on Sunday as a result.
"That can result in a low key performance like the one we had against Dundee United, but it's not an excuse, it's a reason.
"We lost the game because we made mistakes, United capitalised then played really well afterwards.
"There wasn't the same intensity to our play as we had shown previously but we don't dwell on the United game, we just look forward to the next one."