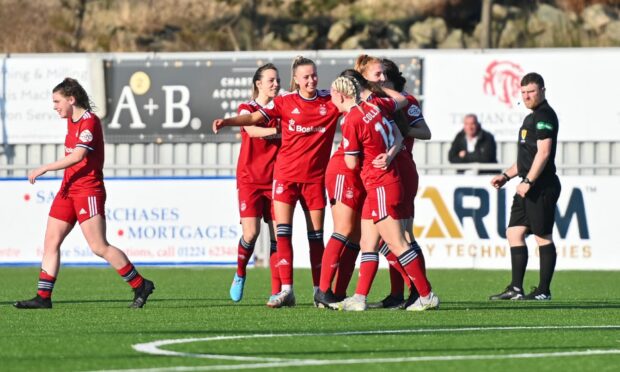 Aberdeen Women have had a magnificent first season in the top-flight and can now look forward to one final league game ahead of their well-earned summer break.
The Dons will travel to Motherwell on Sunday knowing fifth spot in SWPL 1 is already guaranteed to them.
A top-half finish was something which would have been thought of as a tall order before the season began.
Although back-to-back promotions to get Aberdeen into the Premier League once more was a fantastic – and demanded – achievement, it was anticipated the Reds would find it tougher going on their return.
However, they have flourished and have set a great marker for the club's targets going forward.
From the stats, defensively the Dons have to look to sharpen things up in the seasons ahead. A few heavy defeats came early on in the campaign, which maybe have skewed the numbers, but 66 goals conceded in 26 games is too many.
Having spent plenty time in the central belt, I know how much players don't like having to travel up to Aberdeen and the Dons can hopefully make their home a fortress – something which can help make them a consistent, top team.
Full-time training, sports science and player commitment to long haul goes hand-in-hand with paid deals
To return to a theme of last week – off the pitch, it is no secret some SWPL 1 sides are benefitting from ongoing, significant investment and, outside of clubs paying full-time salaries to their players, several have developed a much more expansive support system for their women's first team.
Glasgow City have led the way domestically for a long-time, as the owners pioneered the women's club game in Scotland for well over a decade.
City's fully-professional environment meant new champions Rangers, and Celtic, had to follow suit in order to compete for league honours.
The Old Firm had both tried takeovers of other sides, before finally opting to invest in a women's pathway, and Rangers have recently flaunted the most impressive set-up – with their budget more comparable to that of some of the clubs south of the border in the FAWSL.
However, a step like moving to full-time training is something not only the top three are now looking at and that can hopefully be something Aberdeen work towards quickly.
The news last week of semi-professional contracts for five Dons players was exciting, but there are further moves the club must make, hinted at in the club's press release.
If the Dons want to keep growing and establishing themselves in the top flight then it's vitally important to provide the best environment, matching teams who have added improved medical, nutrition and recovery resources.
While this season has been very promising for Aberdeen, there will always continue to be the lure of the top players moving south.
That will always be a predicament for the club, as we see in the men's game, too, but it is important that players only move to legitimately better their careers after being given the best chance to grow, develop and perform for Aberdeen first.
Good to see Rangers getting Ibrox reception, despite men's subplot
Rangers paraded the Scottish Women's Premier League trophy around a packed Ibrox on Wednesday night.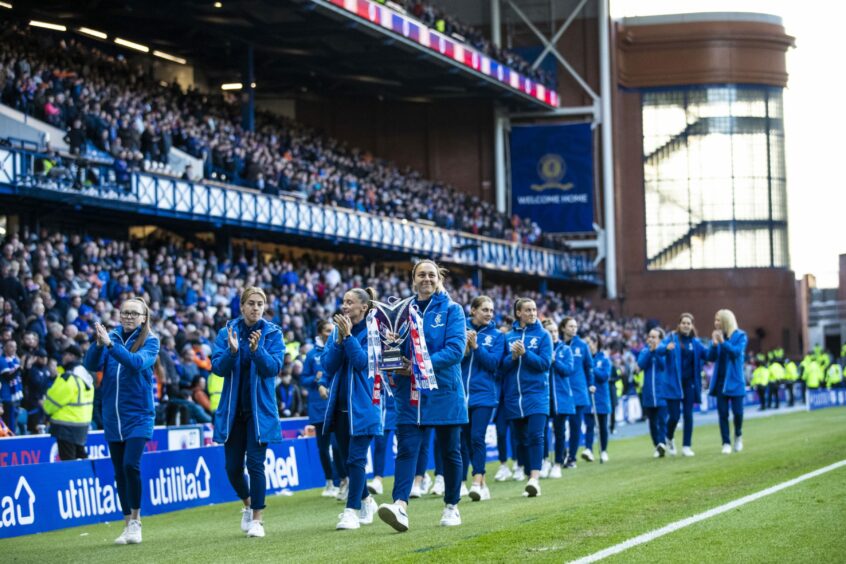 Despite the club learning the men's side would have to hand the Premiership trophy back to their chief rivals, Celtic, on the same night, it was a fitting tribute to the women's staff and players as they showcased their historical success at half-time.
Rangers earned a goalless draw last weekend which meant Glasgow City couldn't catch them, regardless of the result in their remaining game.
Meanwhile, former Aberdeen midfielder and City manager Scott Booth will return to management this Summer ahead of the new season. He will take charge at Lewes Women in the English women's Championship.
Women's FA Cup final a chance to see five of the best in action
We can look forward to the ultimate FA Cup weekend, with both the men's and women's cup finals taking place at Wembley Stadium on Saturday and Sunday respectively.
It is the first time both finals will be played on the same weekend and at the same venue and it marks a milestone occasion which gives the women's competition the stage it merits.
Much has already been made this season of the glaring discrepancies in prize money between the two competitions. A difference is understandable, but the scale of it has been heavily criticised as archaic and counter-productive given the professional nature of elite women's football in England.
There have already been more than  50,000 tickets sold for the women's final on Sunday, which will see Manchester City take on Chelsea – as both sides look to complete a double this season.
Both have been on mesmerising form and, whilst Chelsea celebrated lifting the league title last weekend, City had their own success to enjoy.
They ensured their unbeaten run continued and earned a third-place finish, which meant qualification for next season's Champions League.
The fans at Wembley will be treated to several of the season's top performers, with Chelsea's Jess Carter, Guro Reiten and Sam Kerr, and City's Lauren Hemp and Alex Greenwood all set to be in action. The five made up almost the entirety of the shortlist for Barclay's Player of the Season Award after the league was wrapped up.
The cup final match-up is poised to be a terrific game packed with drama.