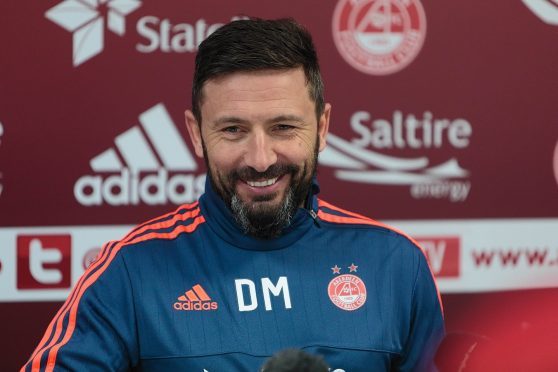 Aberdeen manager Derek McInnes has called on his players to use Leicester City's fairytale title challenge in England for inspiration in their title challenge in Scotland.
The Foxes are five points clear at the top of the Premier League in England following a remarkable campaign despite their financial disadvantage compared to their title rivals.
McInnes, whose side can close the gap on leaders Celtic to one point with victory at Partick tonight, believes the Dons are in a similar situation in Scotland as they try to catch leaders Celtic and the manager wants his side to be inspired by the feat of Claudio Ranieri's side.
He said: "Leicester have been mentioned. They're not the only team we've talked about but they have been mentioned.
"They are on the cusp of a very special season for them. We take motivation and inspiration from loads of different examples.
"But the biggest thing that provides inspiration for me is my own team."
Leicester's title challenge has been touted as a once in a lifetime event, but McInnes believes that is not the case in Scotland.
He said: "I thought last season people said we'd never have a better chance. And here we are again.
"If you have good practice, put together a hungry squad, a tight squad, you can always have your aspirations.
"We don't have what others have. But what we have got, a lot of that I don't see elsewhere. That pleases me.
"With reference to Leicester, they are an inspiration to loads of teams. Not only ourselves."
With Rangers on the verge of a return to the top flight next season and Hibernian also pushing for promotion via the play-offs, many regard Aberdeen's title challenge as being now or never.
But McInnes does not agree and believes the return of Rangers and Hibernian is not an event which should be feared by Aberdeen.
He said: 'I don't think that, all of a sudden, Aberdeen supporters should have their heads in their hands just because it looks as if Rangers and Hibs are maybe coming back into the league.
'We'll be ready for the challenge of any team coming into the league. It's important that we demonstrate constant improvement at our club.
"I said when we came here that I wanted to create a competitive team, a team who can get in the fight for leagues and cups, a team who can do well.
"Any team can win a cup and we want to be winning more cups.
"But our league form over the last three seasons has been very consistent – and we're looking strong to finish the league in a very good position this season.
"So the league form has been very good. And I think, for us, regardless of who is the league, we just look to get improvement for ourselves."