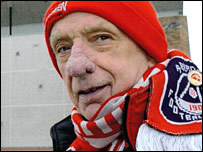 Tributes have been paid following the death of well-known Aberdeen supporter Norman Goldie.
Renowned for his colourful clothing which included red and white socks, Goldie, who was in his 80s, was awarded the Distinction of Notable Service to Aberdeen FC in 2012 by the Dons Supporters Together.
A club spokesman said: "Everyone at Pittodrie was saddened to hear the news."
Credit to @mattcoull1903 @Mezzanine71 @FinHall and the several others for thier tributes to Norman Goldie. pic.twitter.com/0VrwrsMLzv

— Scott (@ScottSMackenzie) May 3, 2016
Every time I saw Norman Goldie either at Pittodrie or walking down Union Street midweek he always was wearing some Aberdeen gear. A true Don

— AberdeenFC Away Days (@AbdnFC_AwayDays) May 3, 2016
We all joke about being a 'Top Red', because we all know who the 'Top Red' was…

RIP Norman Goldie… pic.twitter.com/5lwGTE9mhD

— Dolly Digital (@dollydigital) May 3, 2016
RIP Norman Goldie. Stand Free sir. pic.twitter.com/94RdsY8V8V

— Coullie (@mattcoull1903) May 3, 2016
Very sad news. Good times and bad times this man was there!
R.I.P Norman Goldie, Aberdeens biggest fan! ? ?⚪ pic.twitter.com/ye0LsDTIEi

— Colin Ord (@CocoOrd83) May 3, 2016
Really sad news about Norman Goldie. Would be a nice tribute for the team to wear one red and one white sock in either of last 2 home games.

— Aberdeen Changed (@AberdeenChanged) May 3, 2016
Norman Goldie loved the Dons, and everyone knew him for his red and white socks he would wear. Very sad news a true Dons supporter #rip

— Glen Schreuder (@schreuder92) May 3, 2016
R.I.P to the legend that is Norman Goldie! Probably the biggest dons fan out there!!

— Brodie (@BrodieWebster94) May 3, 2016
RIP Norman Goldie. Genuinely saddened and shocked to hear of his passing. He will always be remembered for those red and white socks! ⚪️?⚪️?

— Erin (@ErinWebster14) May 3, 2016
Awful news about Norman Goldie. The man was a true gentleman and had AFC running through his veins! Will be missed around Pittodrie #RIP

— Jamie Howell (@JamieHowell89) May 3, 2016
Awful news about our very own Mr Aberdeen, Norman Goldie who sadly passed away today. A well known face around Pittodrie & a true fan #RIP

— Trina (@Trina1903) May 3, 2016
RIP Norman Goldie, a weel kent face at Pittodrie and in Aberdeen. Match days won't be the same without those socks. #TopRed #Donsfamily

— William Masson (@ohmygiddyaunt76) May 3, 2016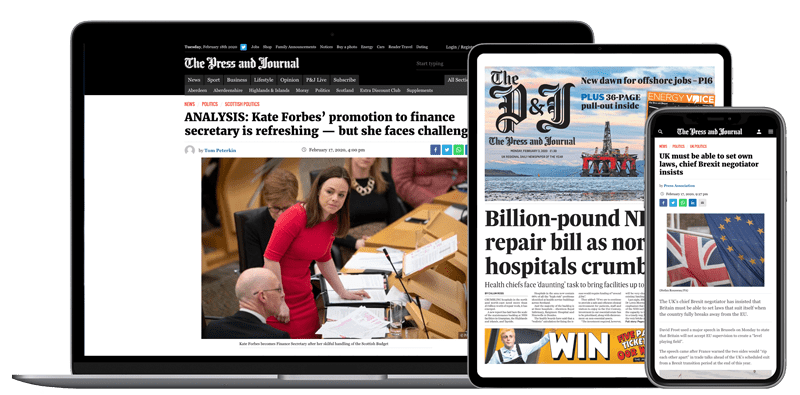 Help support quality local journalism … become a digital subscriber to The Press and Journal
For as little as £5.99 a month you can access all of our content, including Premium articles.
Subscribe