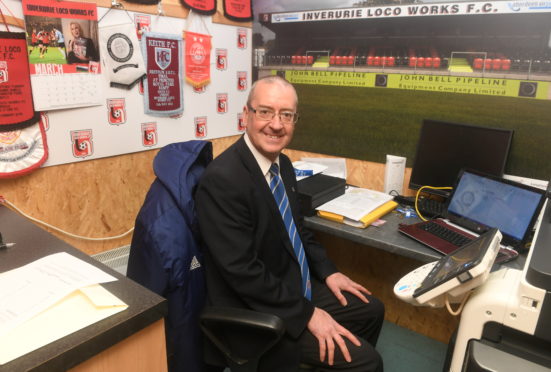 Cove Rangers secretary Duncan Little insists the Highland League champions have no designs on resting on their laurels after winning promotion to the SPFL.
Cove will debut in League 2 in August after beating Berwick Rangers in the pyramid play-off final.
And Little says achieving SPFL status was not the glass ceiling of his club's ambition.
He said: "If you cease to be better, you cease to be good. That's the club motto and we live by it. We want to go as high as we can.
"We are not going into the SPFL to make up the numbers. We've been looking forward to this for a while and we have proved in the play-offs we can challenge and I believe within a year or two we will be up there challenging for the title.
"The teams in League 2 are sides we have beaten consistently over the years. There have been friendlies which you can't take too much notice of, but we have knocked them out consistently in the Betfred Cup, the Scottish Cup and the Challenge Cup.
"We beat Raith Rovers 2-0 in the Betfred Cup and lost a close game to Hearts. The previous year we knocked out Airdrie.
"We have proven we can do it and we have a far better squad and team than the ones which won those games.
"There will be a few teams frightened about what we might do in League 2. The ambition is there to go as high as we can and when you look at what we have in terms of the squad and the set-up which we can expand, we can go quite high. That's the ambition."
Little has been there and seen it all in Cove's journey from the Highland League to League 2, having been part of every step from Highland League newcomers 33 years ago to League 2 debutants.
It is a voyage he did not anticipate taking when first approached by former chairman and current SFA president Alan McRae all those years ago.
He said: "I've been involved since 1986 when we joined the Highland League. The chairman at the time, Alan McRae, put posters up in the social club appealing for volunteers for the first few games of the season as they were struggling for bodies.
"We played Motherwell in a pre-season friendly in July of 86 and, along with a neighbour, we helped out at the turnstiles. I was still following Aberdeen home and away at the time but I enjoyed helping out and did so again for another friendly then a cup-tie against Fraserburgh which went to a replay.
"Alan asked us to help out again and I said yes and I just got hooked. Within a couple of years I was asked to join the committee and by 1991 I was secretary and I've been in that role ever since."
For Little, the highs have been many, the lows thankfully few and far between. But what has been evident has been the rapid speed at which his club has learned and moved on.
He said: "I've never seen a Cove Rangers team so focused and motivated for these games as our boys were. They maintained the intensity and the bigger crowds of 1,100 against East Kilbride and almost 2,000 against Berwick lifted everybody. It was brilliant and the players responded.
"To win the play-offs 12-1 on aggregate across four games is phenomenal, but it summed up our season. It has been great.
"We missed out on the title three years ago on goal difference to Buckie Thistle, otherwise it would have been four in a row this year.
"Edinburgh City caught us on the hop at Inverurie in our first play-off semi-final in 2016. We went out gung-ho and they picked us off at the back by scoring three goals which killed the tie.
"Then last year we beat Spartans comfortably in the semi-finals before the infamous games against Cowdenbeath. We should have won the first leg at Inverurie and we didn't. We had a lot of bad injuries last year and we were down to the bare bones for the final.
"Everyone was willing us to win this year and get our reward. We went into the play-offs with 21 players fit as opposed to 14 last year."