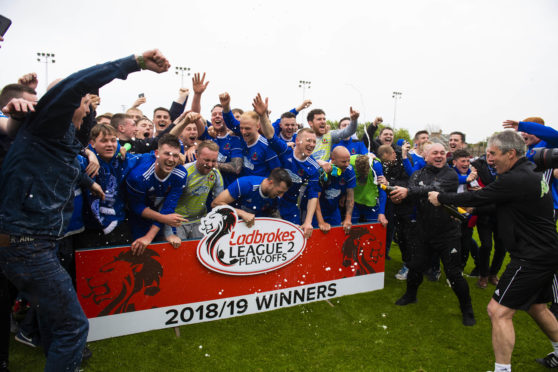 Cove Rangers will begin their first season in League 2 with a home tie against promotion hopefuls Edinburgh City.
The first game on the road for the Highland League champions will be against Albion Rovers on August 10, with a reunion against Cowdenbeath – who they contested an ill-fought play-off fixture with in 2018 – at the Balmoral Stadium on August 17.
The games against fellow north club Elgin City come on September 21 and February 8 at Borough Briggs, with the return fixtures on December 28 and April 4 in Aberdeen.
Their longest trips of the season come on November 30 and April 11, with away games against Annan Athletic, while they finish the campaign at home to Stirling Albion on May 2.
Cove's season begins with the Betfred Cup against neighbours Peterhead – at Balmoor – on July 13.
Cove Rangers fixtures for the 2019-20 season:
August 3 2019                    15:00     Cove Rangers v Edinburgh City
August 10 2019                  15:00     Albion Rovers v Cove Rangers
August 17 2019                  15:00     Cove Rangers v Cowdenbeath
August 24 2019                  15:00     Stirling Albion v Cove Rangers
August 31 2019                  15:00     Cove Rangers v Queen's Park
September 14 2019         15:00     Brechin City v Cove Rangers
September 21 2019         15:00     Elgin City v Cove Rangers
September 28 2019         15:00     Cove Rangers v Annan Athletic
October 5 2019                  15:00     Stenhousemuir v Cove Rangers
October 26 2019               15:00     Cove Rangers v Albion Rovers
November 2 2019            15:00     Cowdenbeath v Cove Rangers
November 9 2019            15:00     Cove Rangers v Stirling Albion
November 16 2019          15:00     Cove Rangers v Brechin City
November 30 2019          15:00     Annan Athletic v Cove Rangers
December 7 2019             15:00     Edinburgh City v Cove Rangers
December 14 2019           15:00     Cove Rangers v Stenhousemuir
December 21 2019           15:00     Queen's Park v Cove Rangers
December 28 2019           15:00     Cove Rangers v Elgin City
January 4 2020                   15:00     Brechin City v Cove Rangers
January 11 2020                15:00     Stirling Albion v Cove Rangers
January 18 2020                15:00     Cove Rangers v Cowdenbeath
January 25 2020                15:00     Cove Rangers v Annan Athletic
February 1 2020                15:00     Albion Rovers v Cove Rangers
February 8 2020                15:00     Elgin City v Cove Rangers
February 15 2020              15:00     Cove Rangers v Edinburgh City
February 22 2020              15:00     Cove Rangers v Queen's Park
February 29 2020              15:00     Stenhousemuir v Cove Rangers
March 7 2020                     15:00     Cove Rangers v Brechin City
March 14 2020                   15:00     Cowdenbeath v Cove Rangers
March 21 2020                   15:00     Cove Rangers v Albion Rovers
March 28 2020                   15:00     Edinburgh City v Cove Rangers
April 4 2020                         15:00     Cove Rangers v Elgin City
April 11 2020                       15:00     Annan Athletic v Cove Rangers
April 18 2020                       15:00     Cove Rangers v Stenhousemuir
April 25 2020                       15:00     Queen's Park v Cove Rangers
May 2 2020                         15:00     Cove Rangers v Stirling Albion