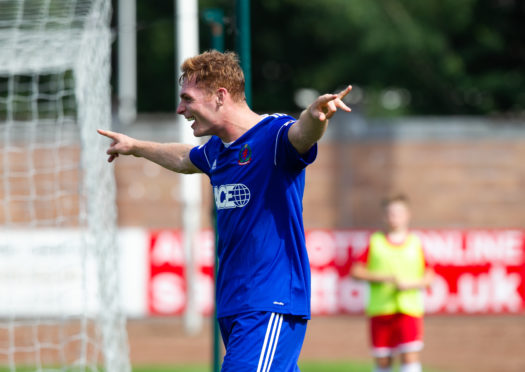 Fraser Fyvie marked his new deal at Cove Rangers with three points and feels the shackles are off him in League 2.
An injury-hit couple of seasons with Dundee United saw him released in the summer and he penned a short-term deal with Paul Hartley's side last month.
Fyvie, a former Dons youngster, lived in Aberdeen when he was at United and has started his own car business, as he throws himself into a new challenge as a part-time player.
Fyvie said: "Being back in Aberdeen is great for my family and I moved back when I was at United. I enjoy it, my family's there, the kids love it. The missus being at home takes a bit of weight off the shoulders.
"Now that I'm part-time, I'm getting to do other things on the side. I set up my own car company a few months back and that's doing well. Off the pitch, I'll get a bit of help in terms of learning stuff, as I need to educate myself.
"I know a lot of players play the game and don't go and study. I realised a few years ago when I did my knee, I needed to go and study. I'm working on more than that now. It's a big part; a lot of players don't realise until it hits home and they leave full-time to go part-time. 'What am I going to do?' That's where I am at the minute but I'm motivated to go and work.
"It's something I've got in my locker to do and something I'm looking forward to. It's something different. I get a lot of help and guidance from people within the football club, who are very good people.
"The manager allows me to go and play. I've probably got a bit more license to go forward, as Connor Scully does that deeper role really well. I've got the shackles off and not being stuck in that number six role where I've always been played. I feel I've got more to my game than that."
It took less than three minutes for Cove to go in front against Elgin, with Mitch Megginson sprung clear and Andrew McDonald unable to bring him down. Megginson steadied himself when faced with goalkeeper Thomas McHale before rolling the ball under the goalkeeper.
Elgin were architects of their own downfall, with stray passes racking up in the first period and affording Cove, who scarcely need an invitation to go forward, chance to scamper free. Fyvie was the chief orchestrator, directing play from the middle of the park, but Matty Smith and Megginson were having far too much influence for Elgin's liking.
Brian Cameron, who brought a calmness to Elgin's play at times, set Shane Sutherland clear with a superb ball. Sutherland got clear and aimed for the far corner, but the shot crept past the post.
The icing was applied to the cake by Chris Antoniazzi with five minutes to go, as he profited from the space and time afforded to him by the Elgin defence to steer home.
Fyvie added: "With the players we've got here, it's a great group to be around. It's a great start but it's just a start. When the winter comes, teams are going to make it more difficult and pitches aren't going to be as good. But I'm sure we'll stick to what we're good and see where it takes us come the end of the season."
'We'll keep getting as many points as we can'
Paul Hartley feels Cove Rangers are reaping the benefits of their hard work after they clocked up a seventh game unbeaten in League 2.
The 2-0 win over Elgin City keeps them top of the table, three points clear of Edinburgh City, and gives them their sixth win in seven games.
Their form in August earned Hartley and Declan Glass the manager and player of the month awards and the former Aberdeen, skipper feels points on the board prove their work is paying off.
Hartley said: "Keep getting as many points as we can – that was the aim at the start of the season. Get as many points on the board as early as we could.
"We always know we'll create chances; we've got good players in the final third and look a real threat. It all comes down to the training ground and how hard the players are working.
"Clean sheets are really important. Just as I'm pleased for the attacking players, I'm pleased for the defenders who coped well with their presence."
Prior to the game, the club announced Fraser Fyvie had signed an extended deal until the end of the season. Fyvie joined initially on a short-term contract last month but will now see out the full campaign at the Balmoral Stadium.
Hartley added: "He's a brilliant signing for us. He's got so much experience and quality, having played at a high level.
"He's enjoying his football and that was the most important thing for Fraser. He's come back and has players and staff that he feels comfortable with."
Goals from Mitch Megginson and Chris Antoniazzi – in the opening and closing stages – saw off Elgin at Borough Briggs.
Hartley said: "We knew it was going to be a really hard game for us. We felt we coped well with it and controlled the match."
Price rues Elgin's costly missed opportunities
Elgin City boss Gavin Price was left frustrated as his side failed to take their chances in the 2-0 defeat to Cove Rangers.
The Borough Briggs outfit were playing catch-up from the third minute when Mitch Megginson gave Cove the lead but Elgin struggled to test Stuart McKenzie.
Shane Sutherland arguably had the best of the opportunities when he was put through by Brian Cameron early in the second period, however his shot was dragged wide of the far post.
Price said: "We wanted to start the game on the front foot and press them high up the park. We've switched off and it's the danger of Megginson in behind. We're then chasing the game and it makes things more difficult.
"I don't think there's been many other chances in the first half. The second half was a frustrating watch for us.
"We had a period after half-time where I thought we were at it and Shane has had a chance. But then it went flat again.
"We changed the shape again trying to get Shane further forward and he's had another couple of chances.
"We've had the chances to get the equaliser but Megginson goes through one-on-one, scores and that's the difference in the game."
"We tried to match up against them, which was the right thing to do. The shape of the team was right. But goals are the big thing in games and we didn't take the couple of chances that came our way, which might have changed the game."
The decisive goal came in the closing stages when Chris Antoniazzi capitalised on Elgin pushing players forward, to find the bottom corner and seal the points for Cove.
Price added: "We're chasing it at the end which creates gaps. It allowed them the space to get the second goal with (Stephen) Bronsky caught up the park.
"Cove probably deserved to win but we had our chances, certainly in the second half, to get that equaliser."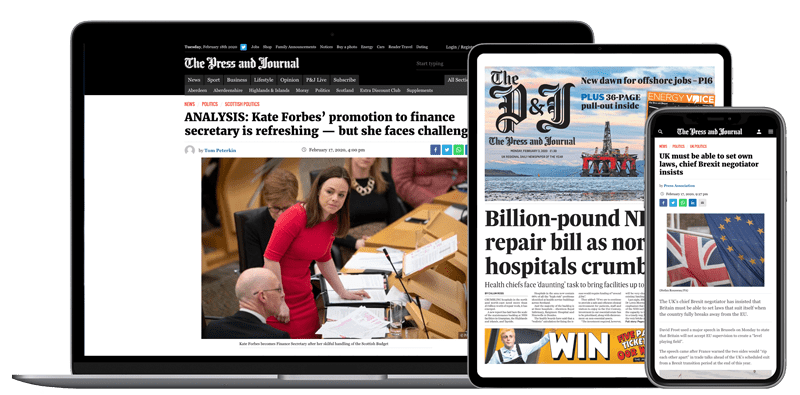 Help support quality local journalism … become a digital subscriber to The Press and Journal
For as little as £5.99 a month you can access all of our content, including Premium articles.
Subscribe