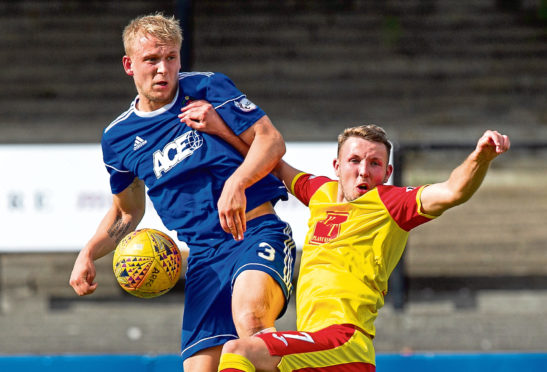 There is less riding on Cove Rangers' game with Cowdenbeath today than one of their previous Central Park encounters.
But Harry Milne says the Aberdeen side's attitude won't be any different when they visit Fife this afternoon.
League 2 leaders Cove meet the Blue Brazil – who are third in the table – in a repeat of the 2018 SPFL pyramid play-off final.
On that occasion the Highland League champions were looking to fulfil their long term ambition of promotion to the SPFL, while Cowdenbeath were trying to save their status in the Scottish League setup.
The stakes were high and tensions boiled over.
Cowdenbeath won 3-2 to stay up but there was controversy about their winning goal with Cove believe goalie Stuart McKenzie was fouled and a stoppage time brawl resulted in Paul McManus, Eric Watson and Scott Ross being sent off.
The circumstances are hugely different today, but Milne says Cove's desire to win will be the same.
"I don't think too much will feel different, but one difference is what's on the line," the defender said.
"There was a lot on the line last time, but this time it's just three points.
"However, our attitude will still be the same going down there as it was then.
"We're going to win the game. We drew the home leg of the play-off and had to win to go up and we're looking to win this game.
"It's good we are where we are now. On that day we were the underdogs and Cowdenbeath were defending their right to be in the league.
"Now we're going down there in the same league, top of the league, we deserve to be there and we're trying to stay there.
"It will be a really tough game. It was difficult when we played them at home earlier in the season (Cove won 3-2 at the Balmoral Stadium).
"We've played down there a couple of times so we know what it's like and what sort of team they are so we'll be prepared for it."
After a first loss in League 2 to Stenhousemuir and defeat to Auchinleck Talbot in the Scottish Cup Paul Hartley's side returned to winning ways on Tuesday with a 3-0 home victory against Albion Rovers. The chances created by Cove could have resulted in a greater margin of victory.
Nevertheless Milne was pleased to pick up the points, but knows they may need to make the most of their opportunities this afternoon.
He added: "I don't think we should have lost the games we did, but it's always nice to get back to winning ways.
"We always know that we're going to be really strong at home.
"So it was important to show that at home and produce a good solid performance to get back to winning ways.
"Winning 3-0 was a good result for us and it could have been more.
"Some of the chances were tough and there were some brilliant saves by Albion's goalie (Daniel Potts).
"Down at Cowdenbeath it will be a tight one and when the chances come along we need to take them."