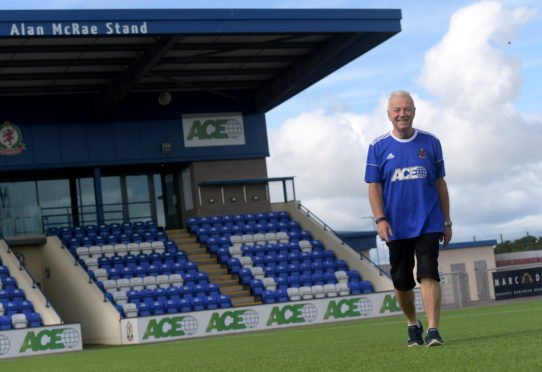 A Cove Rangers fan who's preparing to walk from the Balmoral Stadium to Tannadice hopes his small gesture can make a big difference for the club.
Ian Yule has supported the Aberdeen side for the last 35 years and next Friday and Saturday – along with former Cove players Mark Perry and Roy McBain – he will walk the 63 miles between the stadiums to raise money for the club's legal battle.
Hearts and Partick Thistle's attempt to prevent their relegations would mean Dundee United, Raith Rovers and Cove were being denied promotion.
The three clubs have had to defend themselves, firstly at a Court of Session hearing and now at an SFA arbitration panel.
As a result, they stand to rack up combined legal costs that could exceed £150,000.
Fundraising to cover those costs is under way and, with supporters of all three clubs keen to do their bit, almost £2,500 has so far been donated for the walk.
It's also understood a number of clubs around Scotland are also willing to chip in and assist the beleaguered clubs.
Yule, Perry and McBain will be joined on various stretches of their journey from Aberdeen to Dundee by Cove manager Paul Hartley, director of football John Sheran, youth coach Gary Hake and secretary Duncan Little.
Former Cove players and coaches including Kevin Tindal, Eric Watson, Roddy Black, Kevin Webster and Craig Cooper will also be joining in.
Ian Yule, 60, said: "With the financial implications this case will have on the club I feel it's very unfair.
"I don't think it's right that a small club like Cove will be hit with this massive bill for something that's outwith their control.
"I think Cove, Dundee United and Raith need to try to defend their positions.
"To do that it's going to cost Cove a lot and that's why, for me, it's a small sacrifice to do a walk and give them some help.
"I feel it's even more important that the club is able to make the step up to League One.
"For the players, it would be great to see them playing at a higher level and testing themselves.
"For what they put in last season, they deserve to be able to make the step up."
Cove chairman Keith Moorhouse said: "We're extremely grateful to the guys for coming forward and putting themselves through what will be a gruelling task.
"We're indebted to these guys for taking this on and it's something that will never be forgotten by us at the club.
"We find ourselves in a position, through no choice of our own, racking up costs that are beyond anything we could have ever imagined. But we feel we've got no option but to defend ourselves.
"The reaction we've had has been absolutely amazing and I can only thank everybody for giving us their time and thinking about us at a time like this."
Anyone wishing to donate can do so at www.gofundme.com/f/balmoral-to-tannadice-walk