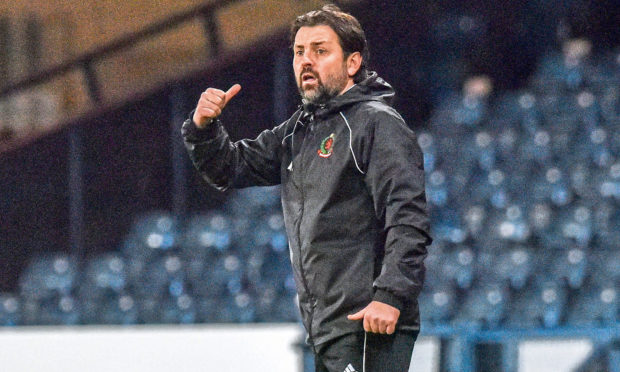 Cove Rangers boss Paul Hartley said Scottish football cannot afford to make any more mistakes as he hailed the measures his club have in place to ensure a safe return.
League Two winners Cove had been planning to return to training today but the announcement from the Scottish FA/SPFL Joint Response Group on Thursday –preventing teams below the Premiership training before August 24 – has pushed their schedule back.
Cove now plan to return on August 25, provided there are no more setbacks.
The delay came after four Scottish Premiership games were postponed after Aberdeen players and Celtic's Boli Bolingoli broke Covid-19 protocols.
Hartley was disappointed by the setback and insists Cove have gone above and beyond to make safety a priority. He also addressed part-time players having jobs to go to and not being able to operate in the "bubble" that has been mentioned at full-time level.
He said: "Our preparation was meticulous. We had everything in place – testing, the stadium had been deep-cleaned and sanitised and the players were looking forward to coming back.
"There's a lot of work that goes on behind the scenes that people don't see, because of the standards we've set. The club have been magnificent.
"You've got to consider that our lads are working different jobs, which makes it far easier for full-time clubs as they stay in a bubble. They're going to different workplaces before and after we see them.
"Hopefully everyone stays professional and safe – everyone has got to be careful. We've got to take responsibility, players and staff.
"We can't make any more mistakes. We've had enough warning."
Testing players was viewed as a hugely prohibitive cost for lower-league clubs, given the estimated cost of £50 per test and the need for regular testing. However, a sizeable donation from philanthropist James Anderson has allowed this to come to fruition.
Anderson, a fund manager with Baillie Gifford in Edinburgh, has gifted more than £3 million to the men's game in Scotland, with each club receiving a £50,000 Covid-19 crisis grant from the money he has donated.
Hartley added: "Everyone is the same. Scottish football was very lucky to get handed a large donation from James Anderson which helps every club, the part-time clubs especially.
"It's a lot of expense when we don't know how long we're going to be doing this, so we'll go with the guidelines and as long as we have to test, we'll keep doing it. There's a lot of cost to it, that's for sure.
"We have to do it – it's the only way we were going to get back to football. Nobody can cut any corners."