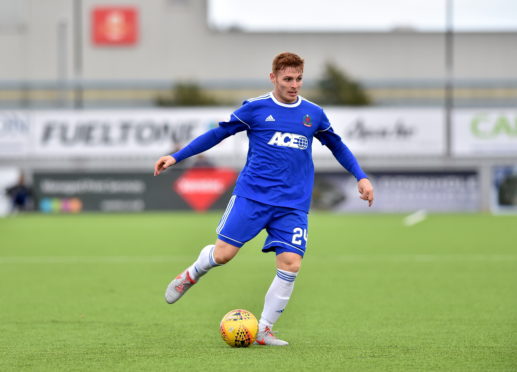 Fraser Fyvie is hoping he'll be able to play some part when Cove Rangers tackle Hibs this weekend.
The midfielder hurt his knee in a friendly against Dundee last Saturday week and didn't feature in the Aberdeen side's final two pre-season friendlies against Fraserburgh and Banks o' Dee.
Fyvie played for Hibs from 2015 until 2017 and helped the Easter Road side win the Scottish Cup for the first time in 114 years in 2016 and then the Championship title 12 months later.
The former Wigan and Aberdeen player hopes he can train this week and be involved in Cove's League Cup Group B opener which is live on Premier Sports this Saturday.
The 27-year-old said: "The knee is fine, it's nothing major at all. I just got a wee dunt on my knee really against Dundee.
"Both of us involved came off and it was just a collision more than anything so I've not been looking at more than a couple of weeks.
"We'll see how the knee progresses over the next few days, I'll have to play it by ear and see how it goes.
"Of course I'm hoping I'm able to play a part. You want to play in every game regardless of who it is against.
"I've had knee injuries in the past and I know sometimes you have to be cautious and allow it an extra few days to recover before you get back on the training pitch."
Fyvie still keeps in touch with some of his former Hibs team-mates and looks back fondly on his time in Leith.
He added: "Those two years turned out to be some of the best of my career leaving Wigan and going there it was a good time.
"There are a few lads still there who I still have conversations with. There's a really good bunch of boys there and that was a good time to be at Hibs.
"Getting out of the Championship and winning the Scottish Cup were major achievements."
Fyvie says the Cove squad are relishing facing Hibs on what will be a big day for the club.
"It's good for the club," he said. "Obviously it would have been great if fans were allowed in but sadly that's not the case.
"It's on TV at least, it's one that all the boys are looking forward to and it's great having them at home.
"It will be a good challenge for us. I'm not sure if they'll rest a few boys and play some that haven't been involved as much.
"I'd imagine they do that because that tends to be what happens with the League Cup is used by for these teams.
"It's probably the same for us to an extent because everyone has had six months off so everyone is needing games."