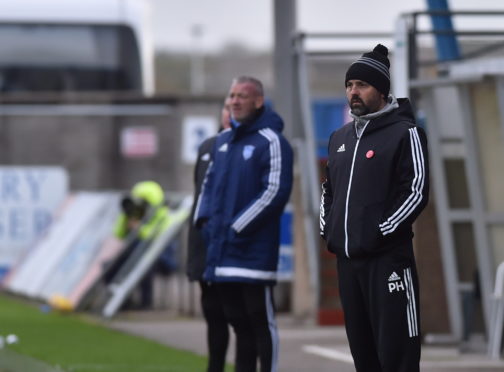 It cannot always be pretty, but over the years Cove Rangers have learned how to get the job done.
Two pieces of quality, from Mitch Megginson and Harry Milne, earned them victory over local rivals Peterhead in a game in which manager Paul Hartley saw a different side to his team.
"They were tough conditions and it wasn't an easy game," said Hartley. "When you come up here you know you're going to have to grind, work hard for it.
"It was a game of two halves. They probably were the better team in the first half and we managed to get ourselves in front. We said at half-time we could pass it quicker in the second half because we'd have the wind, which was a problem for us in the first half.
"We took our chances when they came. We didn't have a lot, which isn't like us, but this league is so difficult. When you go away from home it's important you're hard to beat and we were that on Saturday."
With the teams meeting for the first time in the league in 20 years and five former Peterhead players in the Cove ranks, a feisty, tempestuous affair was always a possibility.
The home side did not follow the plan most teams seem to favour against Cove, sitting in and hoping they can stifle their attacking threat. Alan Cook, deployed up front alongside Derek Lyle, proved a nuisance to the Cove backline, while Steven Boyd and Lyall Cameron showed a willingness to come infield and help supplement the attack.
Boyd and Cook both had shots turned away by Stuart McKenzie in the Cove goal, while Jamie Masson forced Josh Rae to dig out his low strike which threatened to creep inside the near post.
Megginson had been left frustrated by a couple of early decisions which went against him, particularly in his tangles with Kyle Bailey. On one of the rare occasions he managed to free himself from Bailey's grasp, Megginson duly punished him with a crisp shot into the bottom corner.
The game was going to hinge on moments of opportunism. Two sides obdurately sticking to their respective tasks and not making things simple for their opponents.
It was not always a pulsating watch, but one in which neither side could be faulted for application.
Such opportunism fell the way of Milne 10 minutes into the second half.
Megginson had collected the ball in the left channel, away from Kieran Freeman, and cut back looking for Jamie Semple. The ball rebounded off a Peterhead defender and before they had time to react, Milne was upon the ball and dispatched it into the bottom-right corner.
He started last season with an impressive touch in front of goal and has his first for this campaign four games in.
"He was excellent and I thought we were excellent as a team, in terms of our organisation and seeing the game out," added Hartley. "It's a strong start for us and we know how difficult this league is going to be.
"We always said 'Can we get off to a good start?' and we've been able to do that. There's a long way to go but it's important to get points on the board."
Cove take their 100% start back home to the Balmoral Stadium next week, where their impeccable home league record will be put to the test by Partick Thistle.
"It's definitely a step up. It's a tough league and there are some good players – you'll get punished if you're not on your game," said Hartley. "We've got teams ahead of us interms of their experience, being full-time. We only manage to see our players a couple of times a week, but they've got a great work ethic and a great attitude to the game."