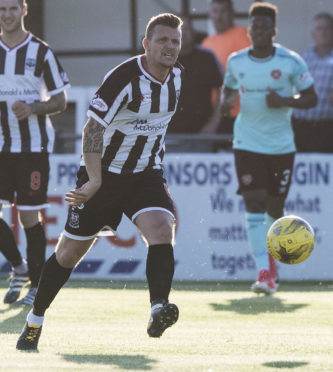 Elgin City captain Jon-Paul McGovern insists the old legs are ready to complete seven games in 21 days as the Black and Whites' League 2 play-off credentials are put to the test.
The far-travelled former Celtic and Sheffield Wednesday veteran is 37 but the only Borough Briggs player to have started every game this season.
While McGovern knows he will be feeling the strain, he will not countenance any excuses about tiredness should City results falter amid the heavy fixture traffic.
The midfielder said: "Situations like this happen sometimes, given the weather in this country, but at Elgin we are used to the travel, as well as all the games and training.
"So, when we do lose a game, I don't think anyone will be using the excuse of being too tired.
"It's part-time football, yes, and it will be tough – it will be very hard for us and we know that. But it is just as hard for the other teams, so there can be no excuses. We are going into these games looking to try to win them and we will be set up for that. Everyone will give their all.
"That's the aim and the manager has made that pretty clear."
It proved a good day for Elgin all round on Saturday, with both Stirling Albion and Stenhousemuir, rivals for the lower promotion play-off places, losing.
McGovern stressed: "We come in after the game and there are people thinking about other results but, genuinely, it's not about that.
"As long as we win our games, and as long as we set up to try and win the games and come out and put the full effort in, that's all you can ask for.
"If we get the result then great but, if the fans can see the boys putting a shift in and it simply doesn't go for us, I think you can accept that."
Elgin now go to McGovern's last club Clyde tomorrow knowing they must end a miserable run of seven consecutive defeats on the road, in stark contrast to their strong Borough Briggs form.
McGovern added: "I don't think you can sneak into the top four unless you pick up your points away from home and it's up to us to start doing that.
"We know what to do and the manager has been pretty clear with his instructions on what he is expecting from us."
Two goals in a 10-minute spell gave Elgin a useful lead by the break. Thomas Reilly netted the first with a curling strike from the edge of the box from Matthew Cooper's pass on 20 minutes.
Berwick then failed to defend a Jordan Allan corner from the right and City centre back Stephen Bronsky buried a firm header to make it 2-0.Brian Cameron fired a foot wide with another home chance while, at the other end, Berwick striker Ousmane See was denied by a full-stretch block from the foot of home keeper Brett Long.
It was all over as a contest after 78 minutes when defender Darryl McHardy burst forward to take a Chris McLeish pass and fire into the roof of the net.