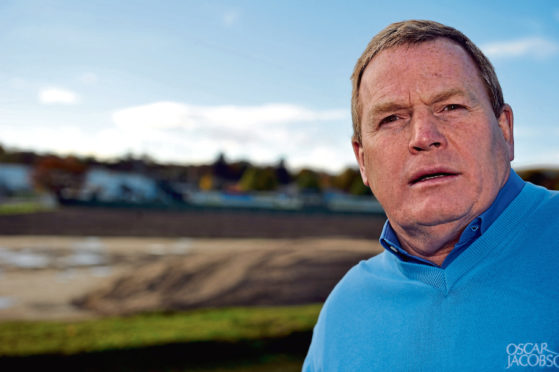 Elgin City chairman Graham Tatters says an early payment of Scottish FA funding has eased a major cashflow problem which could have left the League 2 club on the brink.
In the absence of matchday revenue following last Friday's indefinite shutdown of Scottish football due to the coronavirus outbreak, Tatters had previously feared the Black and Whites faced the prospect of going out of business by the middle of May.
Elgin will now receive support from the Scottish FA board, who yesterday approved the immediate distribution of £1.5 million from club licensing and Club Academy Scotland award payments, which were due to be paid towards the end of the year.
Although Tatters did not disclose the sum, he says it is vast enough to quell his initial fears for the club's immediate future.
Tatters said: "It just shows how quickly things can change.
"It's a significant amount of money for us we will receive from the Scottish FA. We will get both Club Academy Scotland and Club Licencing money.
"It's a sum of money we are very appreciative of.
"The situation was a major problem for us. In addition to having no games, we had two hospitality suites which took 91 and 80 people which have cancelled all bookings.
"There are also the 50-50 draws and raffles, while the social club is closed – because all the parties and functions have stopped. We use our upstairs hall for dance classes and aerobics.
"These are all things we budget for, going on an assumption based on historical usage.
"It should keep us going for a couple of months, and then as we work towards June we will be looking towards selling our advertising boards.
"We should be OK. We are sitting reasonably happy now, it's not all doom and gloom."
Aberdeen chairman Dave Cormack discovers Scottish football has been shutdown due to coronavirus while recording our Northern Goal podcast:
A realistic date for returning to action remains unclear, with a UEFA meeting on Tuesday setting a timescale for associations to complete their domestic seasons by June 30, despite the virus being scheduled to peak in Scotland earlier that month.
Tatters says any commitment to finishing the 2019-20 season will cause problems with player contracts, with leading scorer Shane Sutherland among those players whose deals expire at the end of May ahead of his switch to Championship side Caley Thistle.
Tatters added: "It's a difficult situation on the contracts side of things.
T"he players themselves will need to make a decision over whether they are going to play after May 31.
"If it continues until the end of June I don't know what they will do.
"An SPFL contract is pretty tight – there is no debate about it.
"Ever since the Bosman law you have to get everything tied up.
"If a player is looking to move on, he's not going to play for us after the contract is finished May 31."