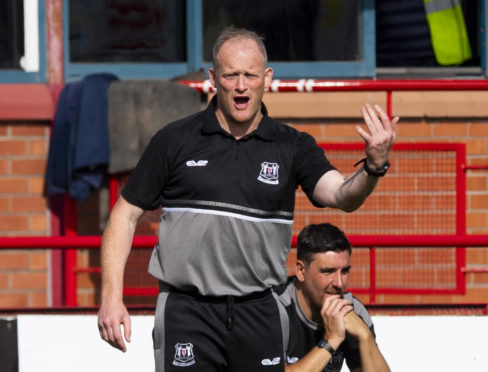 Elgin City manager Gavin Price fears the coronavirus could scupper his attempts to keep his play-off challenging side together for next season.
City were on course for the end of season play-offs when play was halted due to the pandemic in March and with the campaign having been subsequently called to an end and no date for the new term to begin Price's hands have been tied in terms of retention and recruitment of players.
A replacement for leading scorer Shane Sutherland, who will be playing his football for Caley Thistle next season is top of the agenda but Price's immediate aim of keeping his squad together is under threat as the loss of income threatens to cut his budget.
He said: "We've extend the contracts of the players who are out of contract by another month to ensure they can continue to take advantage of the furlough scheme. It was important to do that as they need that security.
"But it is difficult to hand out contracts to players at the moment due to the uncertainty. We finished last season on such a high and I feel it would be crazy to make big changes.
"I'd love to keep the same squad together and maybe add one or two. We've lost Shane obviously and we have five players who are out of contract at the club. I'd like to keep them all if I could but I can't do anything until we know what's happening."
🏆 𝗣𝗟𝗔𝗬𝗘𝗥𝗦 𝗣𝗟𝗔𝗬𝗘𝗥 𝗢𝗙 𝗧𝗛𝗘 𝗬𝗘𝗔𝗥 – SHANE SUTHERLAND (@ShaneSuth10 ) pic.twitter.com/pgLWtj5QTu

— Elgin City F.C. (@ElginCityFC) May 8, 2020
🌟 Our 𝗙𝗔𝗡 𝗠𝗢𝗠𝗘𝗡𝗧 𝗢𝗙 𝗧𝗛𝗘 𝗬𝗘𝗔𝗥 was a split between our Dundee Cup Win (highest votes on Twitter) & our demolition of Cove Rangers in the League (highest votes on Facebook). Both memorable occasions! pic.twitter.com/PFLA0wjNZp

— Elgin City F.C. (@ElginCityFC) May 8, 2020
Black and Whites chairman Graham Tatters claimed "the club will be finished in three months" if the furlough scheme is not extended past June and Price knows the club's survival must take precedence.
He said: "The chairman has kept in touch but I'm a realist and I know Elgin is a football club but it's a business first and foremost and like any business its immediate focus is on getting through this and coming out the other side.
"Until there are guidelines for when we can come back and some idea of what we are coming back to I don't have a budget to work with."
While Price waits for some clarity on what the future holds he expects his players to have been keeping themselves in shape for a return even if they have no idea when that will be.
With a mixture of players from the north and the central belt Price is used to his squad not being together.
The City boss said: "It has been difficult and will continue to be that way until we have clear guidelines on when we will return.
"We give the players closed season training programmes to follow every summer anyway and for them it has been a case of doing it over a longer period due to the early finish.
"We're used to this at Elgin anyway due to the challenge we face geographically with the players being spread out across the country but I know my players and I trust them to be motivated and do the work they need to do to stay fit.
"We keep in touch regularly and they've had things like yoga classes to keep them together even if it's remotely."