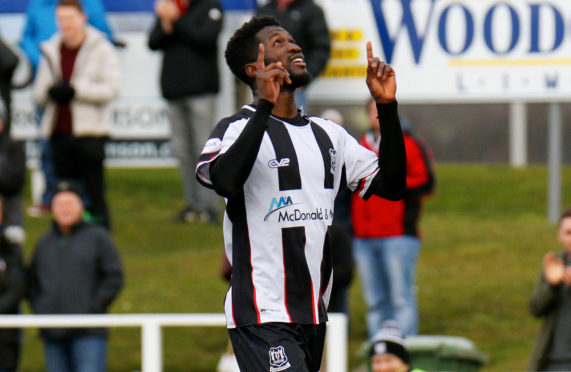 The eight minutes and 46 seconds of video that has set America ablaze.
The senseless killing of George Floyd, an unarmed black man in Minneapolis by law enforcement, has stunned, provoked, outraged and saddened in equal amounts.
His death and the reaction to it – both negative and positive – has put America's relationship with race under the microscope. For black people in the States, this is a frighteningly regular occurrence and little, if anything, appears to be being done to change the narrative.
Smart Osadolor is a professional footballer with Scottish League Two side Elgin City. But he was also a student who walked these streets, living in Ohio for three years while studying an MBA in general management and international business at Tiffin University.
Cities across America are rising up against racism and injustice. Some of it is done positively, with peaceful protests, marches and messages of unity spread through communities. But some of it is negative, with rioting, looting and vandalism breaking out.
America is fractured but the wounds are being felt far and wide.
"It's a difficult time for the black community because it's hard to see time and time again another human being killed on camera in the public eye and nothing really gets done. Instead it's somewhat justified," said Osadolor.
"If the situation was the other way round and if it was a white person or any person in that matter, my feelings will be the same. It's just wrong plain and simple. Right is right and wrong is wrong.
"(It's) treated like black people don't matter. I understand some people don't get it and will be fast to say all lives matter but that's not the point.
"The point is it's not fair that because of your skin colour you are treated wrongly – and now he (Floyd) has a wife and kids without a dad?
"Look into the various cases upon cases – it shouldn't be happening. It just shouldn't."
For George Floyd in Minneapolis, you have Ahmed Aubrey in Atlanta and Breonna Taylor in Louisville. That is just within the last month.
This latest swathe of violence from police seems to have provoked the most resonant global outrage. Athletes, artists, public figures are standing up and saying something has to change, with the Black Lives Matter movement gaining millions of new voices.
"Speaking to my friends in America – they're truly scared cause it could be them. Speaking to my family and little cousins in America they don't understand why someone wouldn't like them or treat them different because of their skin colour. It's a difficult conversation to have or explain to your loved ones who may not understand.
"I don't condone the rioting – it's not acceptable – however what is the alternative? Where or what can people do to make a difference if these things keep happening time and time and again?
"Simply put yourself in the shoes of a black person for five minutes and try and voice how you would feel."
The US has a president in Donald Trump whose rhetoric has fuelled the fire, most recently calling on governers to "dominate" protestors. That is before questions are asked about his handling of the coronavirus pandemic that has seen 107,000 citizens lose their lives.
How does everyone – not just America – learn from this? How do we become better human beings and make horrors like this a thing of the past?
Racism exists in many forms and is not confined to the United States. It exists in the United Kingdom, it exists in Scotland. We all have to learn to be better.
"I'll say we all have a responsibility to understand the people around us; background, experiences, cultures, beliefs and so on. Stamping out racism should be everyone's responsibility, not just black people or the people that are affected.
"For example if anyone witnesses racism, you have a duty to call it out for what it is. Choosing to stay silent on the matter is equally as detrimental as the racist behaviour itself. Everyone needs to come together to combat such behaviour.
"I believe sometimes we need to focus on the smaller issues and look to address them so it doesn't get to this level. We can all do this by speaking out on things that we see and understand to be racist on a day-to-day basis, therefore this will hopefully minimise bigger issues happening.
Sounds right..! No one is saying all lives don't matter. We just saying our lives matter! How we get treated at times just ain't right period..! Black people getting killed on camera like it's nothing.💔 now that's the ones that are caught on camera. Imagine the ones that's not! https://t.co/mBYLuVTpJ4

— Smarticus Osadolor (@Sadolor) May 31, 2020
"I also believe it must come from the top down. Those in leadership roles and those who carry out justice within the judicial system must do more.
"For things to change people must change their views and beliefs from a young age and this is where the education system comes in, to inform the young and the masses the true and positive contributions that black people have played throughout history and society.
"If anyone who is still unsure how to act then it should come from basis of 'treat other people the way you'll like to be treated', because an eye of an eye will turn everyone blind and that is not good for anyone. Education remains the key."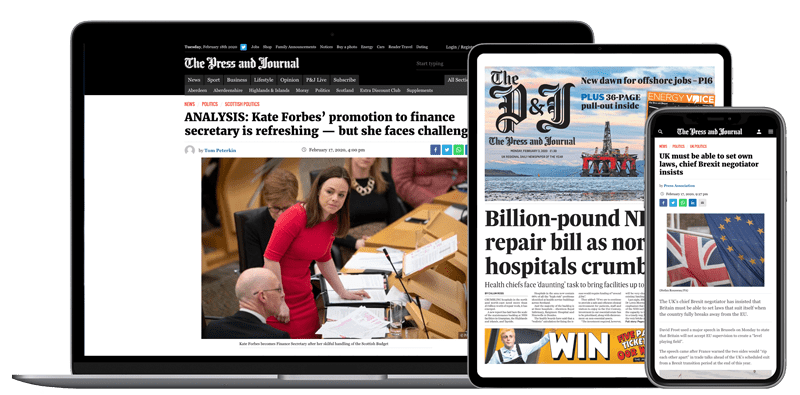 Help support quality local journalism … become a digital subscriber to The Press and Journal
For as little as £5.99 a month you can access all of our content, including Premium articles.
Subscribe