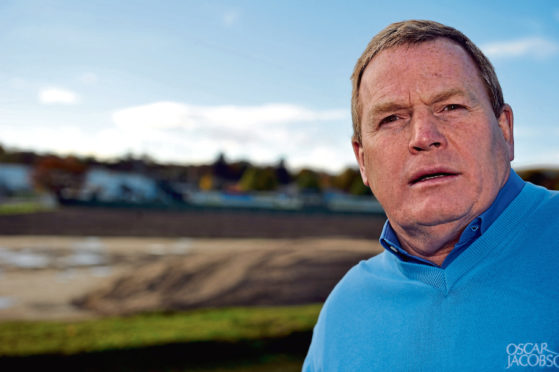 Elgin City will be given use of Ross County's coronavirus testing facility ahead of the Betfred Cup fixture between the two clubs in November.
The SPFL has released testing protocols for the Betfred Cup which will begin next month, stipulating that any lower league club must undertaking testing before any game against Premiership opposition, despite having no requirement to do so for league games.
City chairman Graham Tatters has revealed his Ross County counterpart Roy MacGregor has offered the Black and Whites use of the Staggies' facility for any game which the ruling applies for, including the group stage match between the sides at Borough Briggs on November 10.
It is understood MacGregor has made the same offer available to fellow north clubs Caley Thistle and Brora Rangers.
Tatters is thrilled with the Staggies' gesture, and he said: "We have been really lucky in that Roy MacGregor has offered to pay for any testing that we've got to do against any Premiership club.
"It's such a magnanimous gesture – he doesn't have to do that, but he phoned on Sunday to say he realised how much expenditure it would be.
"Ross County's chief executive, Steven Ferguson, has been absolutely brilliant with us. He has given us all the advice on everything he was going through and that has really helped us out.
"The testing had been worrying us the whole way through, we just didn't know how we were going to do it. We had been trying to find a situation where we could utilise the facilities of other Premiership clubs for our players from Glasgow. We were also maybe going to use the Aberdeen clinic.
"Whether we have to do that now I don't know, but we will be able to use Ross County's machine, they will get the results sent through and back to us before we play them."
Elgin have already hosted three behind closed doors friendlies against Highland League opposition, and Tatters says work is well under way to prepare Borough Briggs for the new season ahead of an SPFL inspection next week.
Tatters added: "Each player is supposed to have nine square metres for changing.
"Our players will be changing in the hospitality lounge upstairs, and the away team will be changing in a building which is just to the left-hand side of the big fence as you look into Borough Briggs.
"We have put flooring down and it looks good. Brora were really pleased on Saturday.
"We are putting as much in place as we can. We are getting checked by the SPFL, who will make an inspection on September 2.
"They will tell us if we have reached the standard or not, but I think we have."