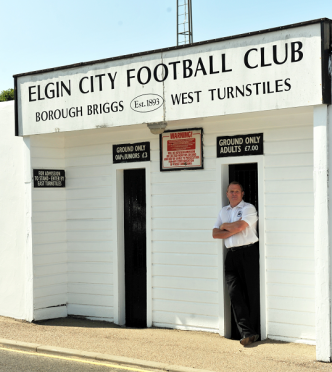 Elgin City chairman Graham Tatters says the interests of Elgin supporters will be considered before any decision is made on the club's stance on Old Firm colts teams entering League 2.
A two-year pilot scheme has been proposed by Celtic head of youth development Chris McCart and his Rangers counterpart Craig Mulholland which would see League 2 extended to 12 teams from the start of next season.
The most likely preferred structure would be a shift to a 33-game season with all of Celtic and Rangers' colts matches being played away from home.
The proposal, aimed at exposing under-21 players to first-team football at an earlier age, has been drawn up with the financial incentive of a guaranteed purchase of 250 tickets per match at £10 per head by the colt teams, working out at £15,000 income per club.
Tatters is inviting feedback on the issue from Elgin's supporters which he says will determine the club's standing, with the Borough Briggs chairman keen to arrange a meeting.
Tatters said: "We wouldn't dream of putting ourselves in a situation where, for short-term financial gain, we would put fans in a position where they wouldn't want to support their club.
"I have got no affiliation to Celtic or Rangers. Some people don't want it to happen, while some are saying it would be a great idea.
"I've spoken to a couple of people at other clubs and there are varying opinions, but nothing concrete."
The colts teams will not be allowed to be promoted or relegated during the pilot scheme, but Tatters says the competitiveness of the league must not be compromised in any reshuffle, adding: "If the two-year pilot scheme works and they win the league comfortably, will they stop there?
"At first look at it, it sounds good because you're getting money but it's not necessarily good for the competitiveness of the league as they are not going to get promoted or relegated."