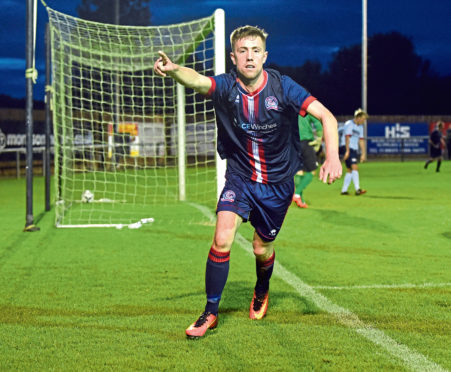 Midfielder Scott Miller believes rejoining hometown club Elgin City vindicates his decision to leave Borough Briggs in search of first team football six years ago.
Miller came through the youth ranks with Elgin but left at the age of 19 to join Highland League side Lossiemouth in 2012 after acknowledging he was not ready to make the grade with the League 2 side.
The 25-year-old went on to spend five years with the Coasters before joining Turriff United last summer where he made a strong enough impression to win a one-year deal with Elgin.
Although leaving City was a tough decision for Miller, he feels getting a second chance with the Moray outfit shows it was the correct one.
He said: "It was my decision. Ross Jack was manager at the time and he didn't want me to leave.
"He wanted me to stay put and try to stick it out but I would only have been getting five or 10 minutes at the end of a game.
"You need to get experience and I knew myself at that time I wasn't ready for that level.
"To leave the club where I went through the youth with all my pals was hard, but if you are not playing, you are no use to anybody.
"I left to go to Lossie, I got my experience and now I've come back. They wanted me back which means a lot to me, it shows that if you go away and drop a level and work hard, you can always come back.
"I've proved myself enough in the Highland League that they want me back. Not an awful lot of people get a chance to come back to the club they came through at youth level.
"I'm so grateful to get that chance."
Miller reflects fondly on his time in the Highland League but he reckons his best years are ahead of him.
He said: "I went to Lossie when Charlie Charlesworth had just left and there was a new manager, Kevin Walker, coming in.
"A lot of players left Lossie when I went there so I got a game quite a lot.
"Not a lot of players could go away to a Highland League club and just start playing regularly.
"I've learnt a lot and picked up a lot of experience in the game but it's time to go to a bigger league and try to make a name for myself. I'm coming into the peak of my career."
Miller will join up with fellow Elgin-based players such as Brian Cameron and Darryl McHardy, and reckons a local core is important in Gavin Price's side. He added: "With the whole set-up at Elgin, I'm really looking forward to it.
"They are trying to get a few more local boys in. Gavin is going the right way about it, he knows what he's doing and I'm looking forward to being part of his plan.
"It's a massive opportunity."