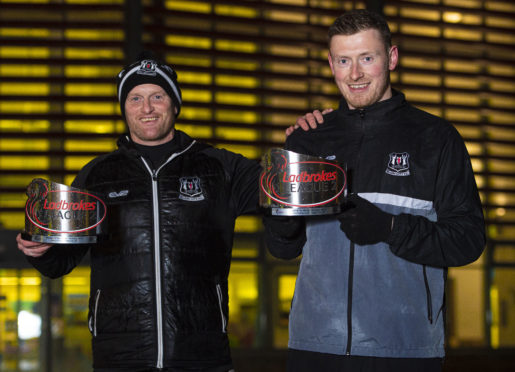 Shane Sutherland reckons he could be on course for the best season in his career after being let go by Peterhead in the summer.
There was a bit of an acrimony over his split from a second spell at Balmoor after not hitting top form in the Blue Toon's title-winning League Two campaign.
Elgin didn't hesitate to bring Sutherland back and he's slammed 19 goals in 20 games in his fourth spell with the club.
His form has earned him the Ladbrokes player of the month and it's a double with Gavin Price winning manager of the month for League Two.
The 29-year-old, who suffered a major knee injury in 2017, said: "It's brilliant to have scored so many already and I have to thank my team mates for creating the chances.
"I won a league medal last season with Peterhead but I didn't work out the way I wanted it to work out.
"Jim probably expected more and I don't think I played to my best. Did I always play in my best position? Probably not.
"I've got no grudges. It's football and you move on. Some people maybe thought 'Oh he's not good enough for Peterhead in League 1'.
"I didn't have to shut them up as such but I wanted to do my talking on the pitch because I know no matter what level I'm playing at, if I get chances I'll put them away.
"I don't think I'm quite there yet where I was in 2016/17, which was the best season of my career before I got the ACL injury – but I'm getting close.
"I scored 24 that season when I got injured in the March so to be on 19 in November there's a good chance of making it even better than that.
"I don't want to get too ahead of myself but hopefully that will be the case."
Elgin have won their last three league games to get into the top four and Sutherland will be a key man in Saturday's big clash away to Edinburgh City.
Boss Price, who signed a new deal last week, said: "We know what Shane can do. We had a good long chat in the summer and he wanted to be back at Elgin.
"He's clearly one of the best players in part-time football but sometimes it takes a long time to get back fully from a long-term injury and I think that's the case now.
"Shane's definitely back to the form that made him top scorer in the league in 2016.
"We're not a one-man team but he's a big factor to how we play.
"Edinburgh have been on a good run of form and they've got experienced players.
"If we can do well there then it will be a big boost for us."