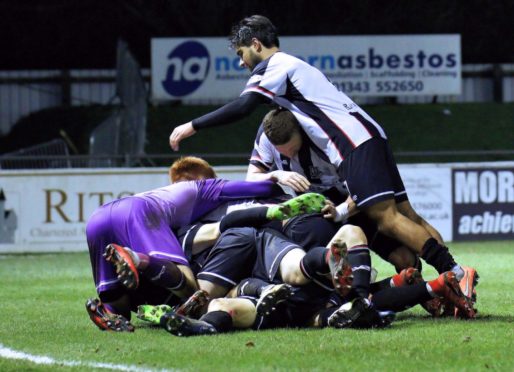 Elgin City goalkeeper Tom McHale was the home hero after making a crucial injury-time save to deny flu-hit Brechin a late leveller.
The Borough Briggs men were 2-1 ahead entering added time when Matthew Knox glimpsed a chance to equalise and grasp a much-needed point for the bottom of the table Hedgemen.
But McHale's brilliance to deny the ex-Livingston teenager's powerful drive paved the way for a clincher from on-loan Caley Thistle striker Daniel MacKay.
Victory put Elgin just two points behind Annan in the play-off zone. McHale said: "In the last five or 10 minutes they put pressure on us going for the equaliser.
"The boys defended brilliantly and then the ball fell to the edge of the box. It was quite a central shot, but because there were so many bodies I couldn't see it until the very last moment.
"Thankfully, I made the save.
"The boys have cleared it and then we broke and scored from that. It was a great feeling, especially after conceding the penalty. We were disappointed not to get the clean sheet that I think we deserved.
"We knew we had to win this game and we've done the job.
"It's really pleasing knowing we can go and enjoy Christmas before a really big game on Saturday at Cove, which we are looking forward to."
McHale reckons Elgin need to be less respectful of their former Highland League rivals this time around.
He stressed: "We gave them too much respect when they came here and beat us earlier in the season. We are in the position where we need to be winning more games, so we won't go there and just lie down to them."
Brechin started well with Kieran Inglis and Ollie Hamilton both testing home keeper McHale in the opening minutes.
But it was Elgin who scored first on 24 minutes when Kane Hester's header off a Conor O'Keefe cross was blocked in the goalmouth and Hester followed up to net the rebound. Hester nearly made it 2-0 nine minutes later, bursting through to beat keeper Lewis McMinn but Brechin full-back Sean McIntosh got back to clear off the line.
Sutherland twice fired good chances wide either side of the break, but increased Elgin's lead on the hour from the penalty spot after O'Keefe went down under a Lee Duncanson challenge.
Brechin got a penalty on 85 minutes when sub Emile Ngoy went down and sub Matthew Knox converted.
Knox then had an injury time drive superbly saved my McHale and Elgin broke away for sub MacKay to fire home with the last kick of the game.
Elgin manager Gavin Price was aggrieved at Brechin's penalty award and said: "Their guy is flagged offside, with Darryl McHardy on the wrong side of him.
"Their player has thrown himself to the ground.
"How that can be a penalty, somebody needs to explain that to me?
"The referee is convinced he got it right but I can't see how he could have,
"But our players can be better than that when it comes to closing out games.
"It's not just about the defending, it's about being calm with keeping the ball. We kind of went into panic mode a bit.
"Maybe that's my fault at times as I need to stay calm as well, and we need to be calm as a group."