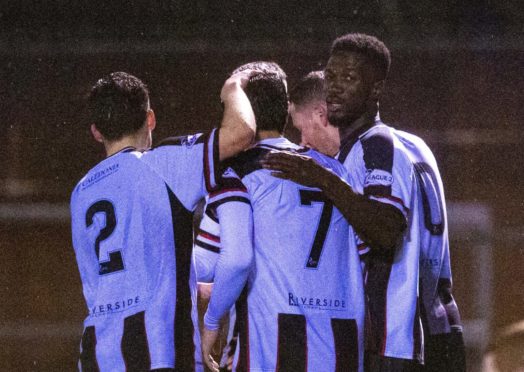 Kane Hester bagged a double as Elgin ripped the heart out of Annan at Galabank.
Hester struck in 42 and 71 minutes, with Shane Sutherland (67) and Rabin Omar (81) also on the scoresheet.
Hester, who signed a a two-year contract extension last week, said: "I'm really happy after that game.
"From the first whistle we played some amazing football – which was on the deck for the entire game, good quick passes and just a great game all round.
"In the first half we got the one goal and we saw it through.
"At the start of the second there was a bit of pressure from Annan but we came through that and once we got the second we got more comfortable on the ball and played even better football."
The Elgin attacker added: "Shane's now on 23 goals and I've got 15 so we're doing all right.
"I'm playing catch-up but I don't think I'll catch him. I think we're both doing very well.
"It's a good combination, where I do a lot of the running for him and he does all the muscle work on a Saturday for me."
In the opening minutes Annan had several chances, with Russell Currie heading over before Broque Watson went close.
Then Currie's 12-yard shot was stopped by the Elgin keeper Thomas McHale.
Ex-Annan player Omar missed a chance for the visitors on the half-hour but four minutes from half-time he set up Hester, who slotted home to give the Moray men the lead.
After a brief Annan resurgence, following the break, Elgin took control and Hester and top scorer Sutherland both went close.
Sutherland, making his 200th appearance, doubled the Elgin lead when he scored from a free kick in the 67th minute to make it 94 goals for the club.
Four minutes later Conor O'Keefe's through ball was picked up by Hester, who blasted home from close-in.
Omar sealed the emphatic win with the fourth goal from a right-foot drive which sailed past keeper Lyle Avci in the 81st minute, while Sutherland's shot with four minutes left went inches past the upright.
Elgin manager Gavin Price said: "We controlled the game from start to finish.
"I asked a lot more from the players as it's always difficult at Annan.
"Shane and Kane were their normal selves and there were contributions from some other areas of the park as well.
"Connor O'Keefe was creating great chances and creating width, which really hurt Annan.
"It was an important game in terms of the league table for if we had lost we would have been eight points behind Annan at this stage.
"It was a big win as there are other teams sniffing about but to talk about league tables at this time is a bit false because it changes week to week.
"We feel we should have more points on the board but it's about delivering.
"Hopefully this is a turning point and we can march on and get results because we've got the ability to get into the top four."