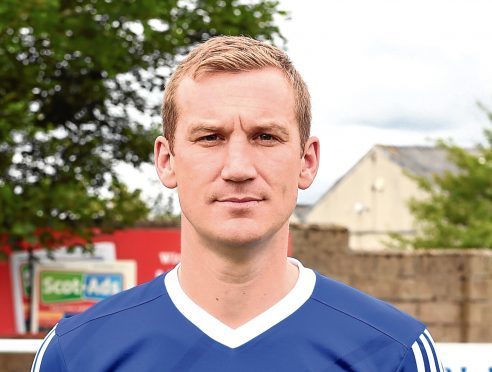 Cove Rangers captain Eric Watson feels his team has a point to prove against Buckie Thistle at Harlaw Park in Inverurie this evening.
The Aberdeen side was beaten on both league meetings last term as the Jags went on to claim a first Highland League title for six years.
But Buckie are already playing catch-up this term with Cove six points ahead of the Jags with a game in hand.
Watson said: "Being pipped to the title on goal difference was a sore one to take.
"We should have won the game against them in the Aberdeenshire Cup final after being 2-0 up but we lost on penalties.
"In the league game at Buckie, we did everything but score in the second half. We lost 1-0 but we deserved at least a point.
"In the home game, they went 3-0 up and we got it back to 3-2.
"We had two great chances right at the death, with one shot hitting one of their players on the back of the head on the line.
"We felt a bit hard done by given the performances we put in last year and definitely feel we have a point to prove this term.
"Buckie have a lot of good players and plenty of goals in their team.
"They will come good and I expect them to be up there challenging for the title along with the likes of Brora Rangers and Fraserburgh. This is a good chance for us to keep them at bay and open up a bit of a gap."
Meanwhile, Cove manager John Sheran has not been surprised by Buckie's slow start to the Highland League campaign – but also warned it would be foolish to write them off as title contenders.
Graeme Stewart's Jags have already lost three of their opening 12 matches this term but Sheran reckons one of the rewards for last season's success has been a factor in the poor start to their title defence.
Sheran said: "I think playing in the Betfred Cup has been a big factor, it affected us last season and it has affected them this time. It is great to be involved in that competition and play against the SPFL teams, but it is an early start and it takes a toll on the league form.
"I am surprised by where they are in the league but I still view them as a team that is contending for the title. We played them three times last year and every single game was full of incident, excitement and goals.
"I would expect this one will be no different. Both teams will certainly be going out to win the game, though under different sorts of pressure."
Cove earned a third round Scottish Cup tie against Airdrie by defeating Nairn County 2-1 on Saturday.
It was a much closer contest than when the sides met last month when Cove eased to an 8-0 victory.
Sheran, who has a full squad available for tonight's match, added: "We knew after the last game, when it was a bit too easy for us, that Nairn would be completely different.
"That proved to be the case. I felt 2-1 didn't flatter them but it was still a comfortable enough victory.
"We have been to Airdrie before – in 2008 when we lost 3-0.
"A lot has changed since then, though, and they have an artificial surface now.
"It is a game we can look forward to when it comes around.
"If we were to have been drawn against one of the Championship teams then we would have had pretty much no chance of progressing any further.
"But we feel we do have a small chance of progressing against Airdrie, although we will certainly need to play really well on the day."