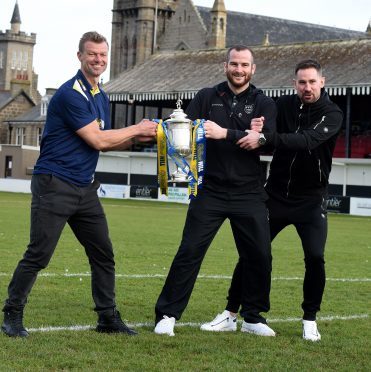 Former Rangers defender Arthur Numan has warned the Light Blues players they underestimate Fraserburgh at their peril this weekend.
The Broch will host the Ibrox club at a soldout Bellslea Park on Sunday at noon in what promises to be a memorable William Hill Scottish Cup spectacle for the locals.
The Highland League men from Buchan have nothing to lose as they take on one of the biggest clubs in Scottish football.
Numan, 48, visited the Broch yesterday to see for himself what lies in store for his old club, taking time to meet Fraserburgh manager Mark Cowie and some of his players as the build-up to the home side's glamour tie began.
The former Dutch international saw enough to know Rangers cannot take this game for granted in front a partisan 1,800 sellout crowd, of which the Ibrox club received 350 tickets.
He said: "I've been to many places, but never to Fraserburgh. It is always nice to go to places like this because normally, when you play at the highest level, you play against teams in big stadiums but to be honest, this (the Bellslea) is a stadium where you smell the history.
"It's special for the home team to play against a team like Rangers because it doesn't happen a lot.
"Rangers have nothing to win and everything to lose. That's what makes it special in the cup, especially when you play against the lower teams.
"You see it in England as well, and you get surprises and the smaller team writes history.
"It is also important that you concentrate because sometimes when you go out on the park against smaller teams, you think 'oh, it's going to be an easy game'.
"But if you don't concentrate, you'll pick up injuries, you'll make mistakes and you'll give away stupid fouls.
"This is against a smaller team and they only train twice a week. For a team like Fraserburgh it is fantastic.
"I'm sure they were cheering when Rangers came out in the draw.
"For the whole community here to see Rangers play against their local team is fantastic.
"But, with all respect, Rangers should win
here.
"Playing at Ibrox is a big stadium on a big park. Here is a smaller stadium, the pitch may not be in the best condition and Rangers will have the fans right on top of them. "
Numan has experienced compact grounds and pitches before in his time at Ibrox and he recalls one game in particular as being a shock to the system.
He said: "I've played at a stadium like this before. We went on a training camp in January 2003 in Dubai. The facilities were fantastic and the weather was nice. We went out there to prepare for the second half of the season and our first game back was a Scottish Cup match.
"We won 3-0 but I'll never forget it, because we were in Dubai with the T-shirts on and a few days later we played against Arbroath and
our ankles were in the mud.
"It was a small stadium and I think they had three of four dressing-rooms for us. One was for the coaching staff, one was for the playing team, one was for the substitutes and the other was for the medical staff.
"We knew it was not a difficult game but a different game because everyone expected you to win.
"I always remember playing at Arbroath because I sometimes use it as well (when coaching) to talk about the small pitch. It's important that you concentrate and focus on the game."
Arthur Numan was speaking at a William Hill media event. The bookmaker is the proud sponsor of the Scottish Cup.